NNDC Postgraduate Scholarship 2023/2024 Application portal is now open. Interested persons should read the instructions and guideline below before the application.
Are from any of the Niger Delta States in Nigeria? Have you finished your undergraduate studies? Are ready to do your postgraduate programmes? Maybe you need financial assistance to further you education.
If you have positive responses to all these questions above, you should be happy about the good news that I want to share with you in this article. There is a golden opportunity that you cannot afford to miss. That is, the 2023/2024 NDDC Foreign Postgraduate Scholarship.
The Niger Delta Development Commission (NDDC) invites all interested and suitably qualified candidates for the application of the ongoing 2023/2024 NDDC Postgraduate Scholarship. Are you excited to know more about this opportunity? If so, make sure that you read this article carefully to the end.
2023/2024 NDDC Foreign Postgraduate Scholarship
As part of our Human Resource Development Initiatives, the Niger Delta Development Commission (NDDC) is embarking on Foreign Post Graduate Scholarship Programme to equip Niger Deltans with relevant training and skills for effective participation in the local content programme of the current administration as well as compete globally in various professional disciplines.
Disciplines to be Considered
The scheme is for suitably qualified applicants, with relevant Bachelor's/Master's Degrees from recognized Universities in the following professional disciplines:
1. Agricultural Sciences
2. Engineering
3. Environmental Sciences
4. Geosciences
5. Information Technology
6. Law
7. Management Sciences
8. Medicine
9. Architecture
10. Hospitality Management
List of NDDC States in Nigeria
There are total numbers of Nine (9) states that are regarded as the Niger Delta States in Nigeria. There are the prominent Oil-Producing states of Nigeria. They include the following:
Abia State
Akwa Ibom State
Bayelsa State
Cross River State
Delta State
Edo State
Imo State
Ondo State
Rivers State
Application Requirements for NDDC Postgraduate Scholarship
Applicants must possess the following:
1. First Degree with minimum of 2nd Class-Lower division for those wishing to undertake a Master's Programme.
2. Applicants must have gained admission for a Post Graduate Programme in any of the listed disciplines above, in a Foreign University.
3. Applicants who have already enrolled in overseas' Universities are NOT eligible to apply.
4. Guarantor's written consent of good conduct of the applicant from any of the following persons from the applicant's Community/Clan.
a) Member of National Assembly/State House of Assembly
b) Chairman of LGA
c) First Class Traditional ruler
d) High Court Judge
5. Persons with evidence of cult membership or criminal record shall not be considered.
6. Applicants must have completed the mandatory National Youth Service Corps (NYSC).
7. All the applicants MUST come from the Niger Delta Region.
Documents Required For Application
The following documents shall be required for the application of the 2022/2023 NDDC Foreign Postgraduate Scholarship:
Recent passport photograph
Local Government Identification Letter
Post Graduate admission letter from a recognized Oversea University. Relevant degrees from recognized Universities.
NYSC Discharge/Exemption Certificate
How to Apply For NDDC Postgraduate Scholarship 2023/2024
The application for the Niger Delta Development Commission (NDDC) Postgraduate Scholarship can only be done online at www.nddc.gov.ng. if you sure that you are qualified for the application, click on the Application Portal or carefully follow the guideline that I am going show you in this section.
1. Application must be made on-line at the Commission's website: (www.nddc.gov.ng) with the required documents as shown in the previous section.
a. Visit the portal at: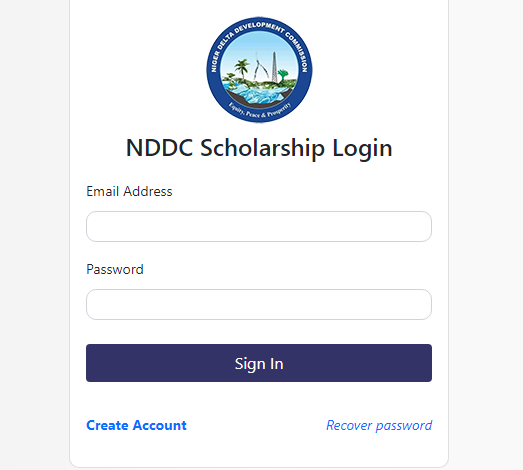 b. Click "Create Account" if you don have account on the portal yet
c. Sign In with your email and password if you have account already
d. Click "Recover Password" if you have started the application before but you lost your password
2. Successfully complete application form will be assigned a registration number automatically.
3. Print the hard copy of the on-line generated acknowledgement for ease of reference.
4. All shortlisted applicants will be posted on NDDC website (www.nddc.gov.ng)
For further enquiries, please contact:
Director of Education, NDDC
Mobile: +234(0)9137806550
E-mail: [email protected] ,
Application Period
All completed applications must be submitted on or before October 30th, 2024 from the date of publication.
CRITERIA AND GUIDELINES FOR SELECTION
1. Scholar must come from the Niger Delta region
2. Possess five Credits at not more than 2 sittings
3. Students must obtain First Class Degree/Second Class Upper Division to benefit from the Scholarship
SELECTION PROCESS
1. Online application on the Commission's website
2. Shortlist candidate using:
i. WASSCE/ NECO
ii. Undergraduate degree (1st Class/Second Class Upper)
iii. Local Government Identification
3. Computer Based Test to be conducted in each State of the Niger Delta by Consultants. This will test I.Q proficiency in English, Mathematics and General Paper.
4. Score a minimum of 70% in the test.
5. Shortlist Successful candidates.
6. Final verification through the Local Government Areas and Community Development Committees.
Recommended Posts
Federal Government Scholarship for BEA
University Of Calabria International Scholarship – A.Y.
Chevening Scholarship UK | Fully Funded
USTC Scholarship China | Fully Funded
University Of Alberta International Scholarship Award
NOTE:
The Commission (NDDC) will not enter into any form of Communication with candidates who were not shortlisted for the Computer Based Test (CBT), those who were not invited for oral interview or candidates that were not successful during the oral interviews.
Preferences will be given to candidates from Oil Producing Host/Communities/Local Government Areas as long as candidates meet the approved cut off mark.
The Commission will ensure a fair spread of courses amongst beneficiaries within each State.
Deferment, Change of Institution and Course are not permitted.
The Commission reserves the sole and absolute discretion to select in line with the above stated criteria and its internal consideration. The decision of the Commission in this regard is final.
I hope you have found this article helpful. For more inquiries about NDDC Postgraduate Scholarship 2023/2024, kindly make use of the comment section below.
Please do well to share this article with other