Are you interested in working as one of the ad-hoc staff in the forthcoming 2023 Population and Housing Census? If you have not applied for the ongoing NPC Recruitment, ensure that you read this article carefully to the end.
Application for NPC Recruitment for 2023 Census has started.
The application period for the NPC Recruitment has been scheduled from 30th October, 2022 to 28th December, 2022.
The National Population Commission invites all suitably qualified Nigerian citizen for the application.
As you read this article, you are going to see the necessary requirements for the application and the application procedures. Now, let's go if you are interested in getting more detailed information about this opportunity.
Apply for:
Nestle Nigeria Technical Training Programme 2023/24

Tony Elumelu Foundation $5000 Seed Capital Entrepreneurship Programme
Requirements for NPC Recruitment Application
Before you commence the application for the NPC Recruitment, it is necessary that you check if you have the necessary requirements for the application. They include the following:
National Identification Number
Valid and Functional Gmail Account
Valid and Functional Phone Number
Valid and Functional /Operational Commercial Bank Account (No student/NYSC Account)
Valid Educational Qualifications.
Access to and knowledge on the use of computers, tablets & smartphones is an added advantage.
Referees
Positions Available for Application
Applicants of the NPC Recruitment with required qualifications can apply for any of the following positions:
Enumerator
Census Trainer/Facilitator
Specialized Workforce
Monitoring/Evaluation Supervisor
Data Quality Manager
Field Coordinator
Quality Assurance Assistance/Rovers
Training Class Administrator
Check the application to see the roles, requirements and job description of the respective positions.
Related Posts
FRSC Recruitment | See How To Apply
Nigeria Immigration Service Recruitment
NERC Recruitment | How To Apply 
Asaba Specialist Hospital Recruitment
JEZCO Oil Nigeria Limited Recruitment
How to Apply for NPC Recruitment
The application portal for the National Population Commission Recruitment for 2023 Census is https://2023censusadhocrecruitment.nationalpopulation.gov.ng. Applicants should follow the step by step guideline procedures provided below for their application:
1. Visit the Application Portal
2. Click on 'Start Application' Button for new applicants
3. Select 'Start as ad-hoc staff' depending on the category you are applying for.
Application Instructions
Applicants must have the following:
Valid NIN
Valid Phone Number (Remove Number From DND)
Device location must be turned on
Valid Email Address
Valid Educational Certificate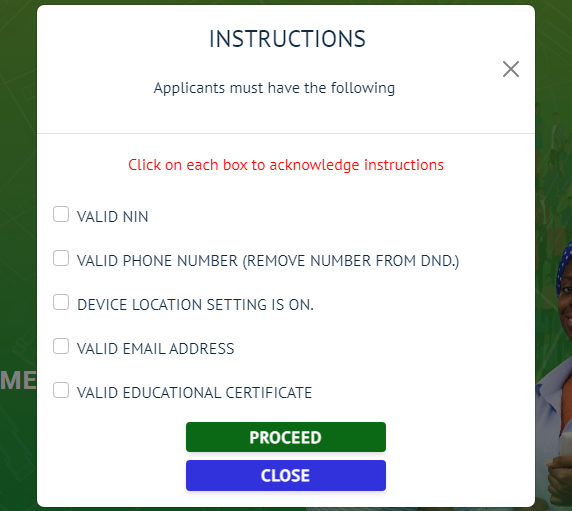 Click on the boxes to acknowledge the instructions.
4. Click on 'Proceed'
5. Read the disclaimer, accept the Terms and Conditions by checking in the box and click 'Proceed'

6. Enter your valid NIN and click 'Verify'

7. Click OK on successful verification of your NIN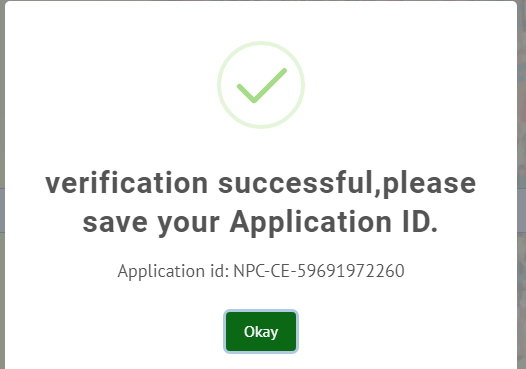 8. Fill-in your Personal Information:
Name
Date of Birth
Gender
State of Origin
L. G. A of Origin
Disability Status
Computer Proficiency
Criminal case conviction
Languages spoken well
Next of Kin Details
Address (permanent)
Preferred state of assignment
Preferred L. G. A. of assignment
Preferred Ward of assignment
Click 'Next'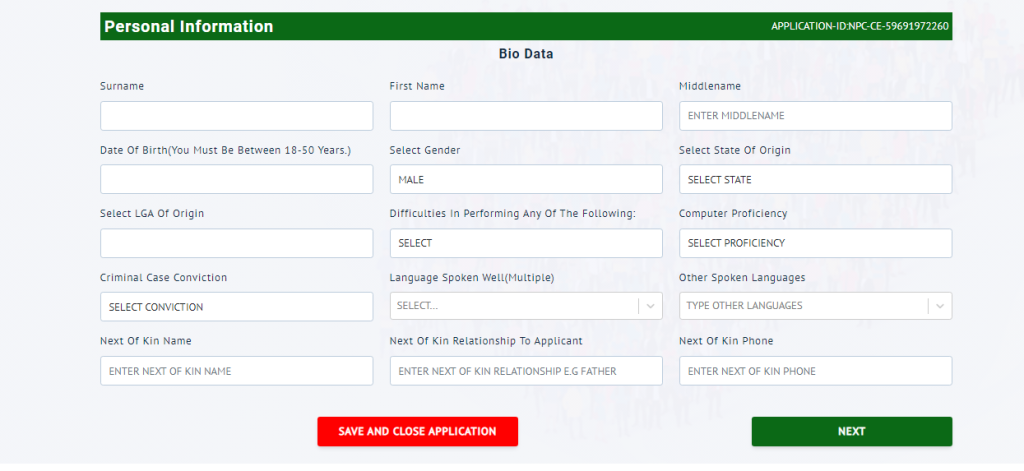 Click on 'Next' Button to proceed.
9. Enter your Contact Information
Verify you phone number
Add valid email address
Click 'Next'

10. Enter your Educational Data
Name of Institution
Qualification
Grade
Upload the image of your certificate

Click Next to proceed
11. Fill-in your work experience details and choose the position that you would to apply for.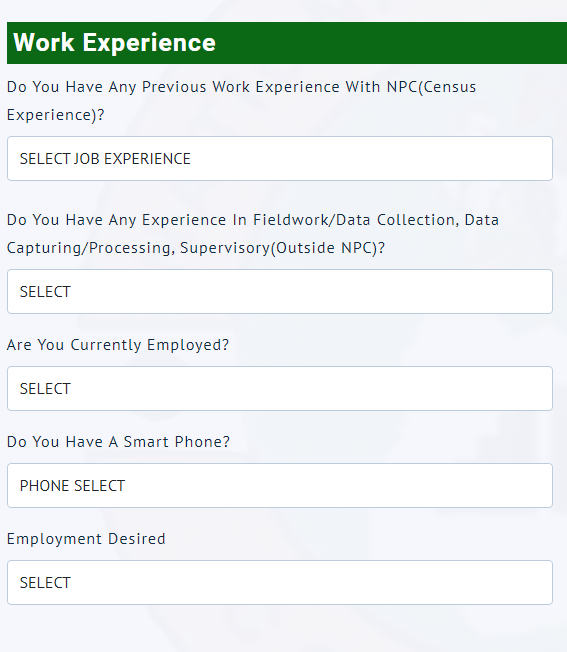 12. Do you Facial Capture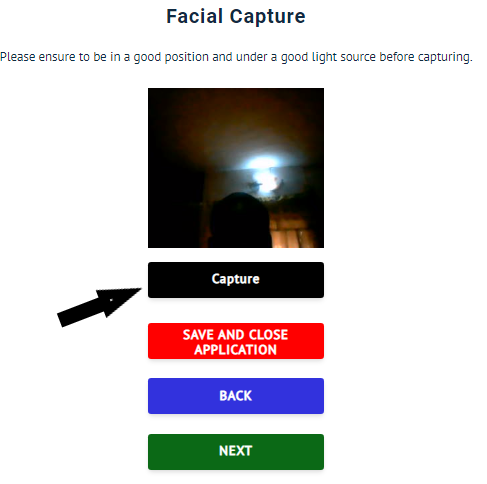 Click Next to continue
13. Review you application details and edit where necessary
14. Submit the application
How to Check NPC Recruitment Application Status
If you have successfully submitted your application, you can check your application by following the procedures below:
1. Visit the application portal
2. Click on 'Check Application Status' Button

3. Enter your Application ID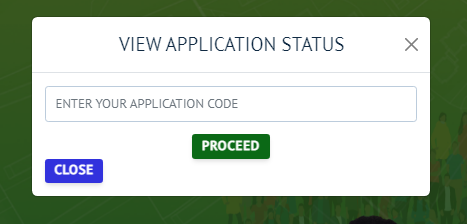 4. Click on Proceed to view you application status
NPC Recruitment Screening Procedure
The Recruitment Review Team would examine, and screen applicants based on their NIN, documents (School Certificates), and photo passport.
First-level screening would be conducted on the portal by filtering the applicants based on the stated requirements.
Physical screening would be conducted at the LGA's designated centres.
The LRRT is composed of:

One NPC Desk Officer Secretary
Prospective Ad-hoc staff can only apply on the census portal in areas where they are residents and will be deployed accordingly.
Note
Candidates should possess relevant qualifications.
There will be temporary system closure of the e-recruitment portal for internal review of the recruitment process from 7th November to 13th November 2022.
The application is FREE. Beware of Internet Fraudsters!!
NPC Recruitment Screening Date
The date for the National Population Commission Screening shall be communicated to all successfully registered and selected candidates in due course. It is advisable that you check your email address regularly if you have provided a valid one.
How Much to Be Paid to Selected NPC Ad-hoc Staff
The salary of the successfully selected National Population Commission Ad-hoc staff for the 2023 census ranges between N55,000.00 to N65,000.00 depending on the position you are selected for.
National Population Commission Contacts
For Enquiries: Call NPC hotline: 07000236787 or contact NPC social media platforms:
Facebook: National Population Commission;
Twitter: @natpopcom;
Instagram: npc_nigeria;
YouTube: NPC Nigeria;
Email: [email protected]
Recommended Posts
Nigerian Army Regular Recruit Intake Application
Nestlé Management Trainee Programme (NMTP)
How To Apply For MTN ICT And Business Skill Training Initiative
Coronation Insurance Graduate Trainee Program 2022 | Ongoing Recruitment
College Of Education Afaha Nsit Recruitment | Teaching And Non-Teaching Staff
I believe that you have found this article helpful. You can make use of the comment section below this article if you have any other question about the NPC Recruitment for 2023 Census.
Please do well to share this article using any of the available buttons below.