UNIPORT Post UTME Registration for the 2022/2023 Academic Session is ongoing. Follow this article as I show you how you can register.
Are you interested in getting undergraduate admission into the University of Port Harcourt (UNIPORT)? Did you make the university you first choice institution in the just concluded Joint Admission and Matriculation Board (JAMB) examination?
If any of your responses to the above questions is 'YES', then you should know that this article is for you. I believe that you would be glad to receive this latest news about the UNIPORT Post UTME for the 2022/2023 undergraduate admission.
This is notify you that the management of the University of Port Harcourt has opened the official portal for the registration of their 2022/2023 Post UTME Screening Exercise.
All candidate whose UNIPORT is their first choice institution and have scored up to the Official JAMB Cut Off Mark are invited for the application.
Before going into the application, it is advisable that you go through this article for more detailed information.
Related Links
UNIPORT Academic Calendar 2022/2023
Cost Of UNIPORT Post UTME Registration
The cost purchasing UNIPORT Post UTME Registration PIN is N2,000.00. You should be informed that this is the official price for the form. However, Cyber Café may add extra charge as their pay for assisting applicants on the registration.
UNIPORT Post UTME Registration Requirements
Applicants of the UNIPORT Post UTME must possess some necessary requirements before they can be allowed to proceed with the registration. The UNIPORT Post UTME registration Requirement are:
Applicant must not be less than 16 years old at the time registration.
Applicant must have participated in the 2022 JAMB examination and score up to JAMB General Cut Off mark of 140.
Applicant must make the University of Calabar a first choice institution on the JAMB portal.
Applicant must possess the O' level of minimum Five (5) Credit Pass with English language and Mathematics inclusive.
How to Register UNIPORT Post UTME
The University of Port Harcourt Post UTME Screening Exercise for the 2022/2023 academic session can be registered at https://utmedetails.uniport.edu.ng/welcome_utme.php. If you know that you possess the necessary qualification for the Screening Exercise, kindly follow the step by step guideline that I am going to show you in this section: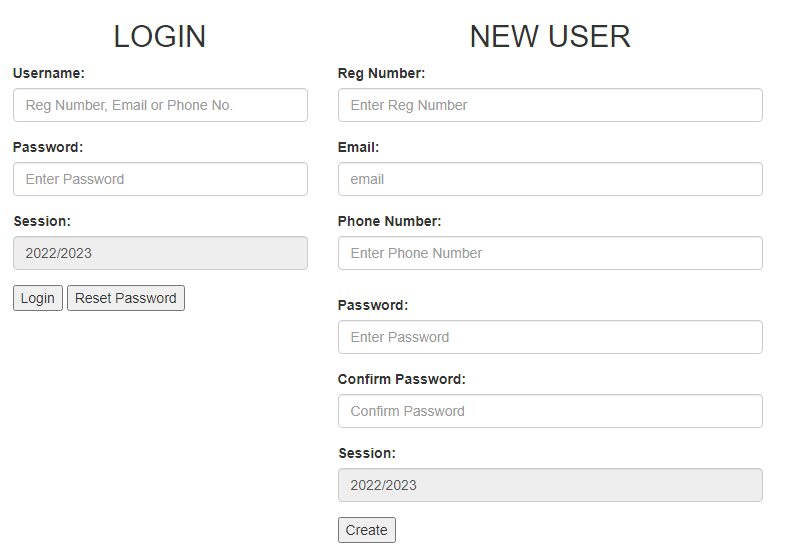 Visit the official portal for UNIPORT Post UTME registration
Eligible candidates are to input UTME Registration Number and confirm pre-loaded UTME details.
Generate Remita code for payment with your master, visa or verve card, etc or Print out Payment Slip and proceed to any of the following Banks with Remita platform (ACCESS BANK PLC, ECOBANK LTD, FIDELITY BANK PLC, FIRST BANK PLC, FCMB, UBA PLC AND UNIPORT- CHOBA MICROFINANCE BANK) and make payment of N2, 000.00 0nly.
Obtain a Remita receipt showing an Access Code from the Bank Teller confirming the payment.
Proceed back online and Login with your UTME Registration Number and the Access Code on the payment slip.
Complete the Form online as requested.
Print Photo Card for the Screening Exercise Clearance, Reprint Photo Card a day to the examination.
Note the date and time of Screening on the Photo Card.
UNIPORT Post UTME Date
The date for UNIPORT Post UTME Screening Exercise for respective candidates are shown on the printout generated after a successful registration. Candidates are enjoined to refer to the photo card for more information about the screening schedule.
UNIPORT Post UTME Registration Deadline
In view of the advertisement and the commencement of registration for the 2022/2023 Post-UTME screening exercise, the University wishes to inform the general public that "the deadline for the 2022/2023 registration exercise is Thursday 27, October, 2022 and the registration portal will be disenabled".
All prospective candidates are encouraged to complete their registration within the stipulated date. Further information will be communicated accordingly. 
SCHEDULE FOR THE 2022 UNIPORT POST-UTME SCREENING EXERCISE
DATE FACULTY/PROGRAMME
8:00am – 3:00pm
Monday, 31st October, 2022 Anatomy/Physiology/Nursing/Dentistry Agriculture SSLT
Tuesday, 1st November, 2022 Humanities Pharmacy
Wednesday, 2nd November, 2022 Management Sciences Law
Thursday, 3rd November, 2022 Engineering Education
Friday, 4th November, 2022 Social Sciences Science
Saturday, 5th November, 2022 Medicine and Surgery
MATERIALS NEEDED FOR THE POST-UTME SCREENING EXERCISE
Candidates are required to come with the following:
A clear copy of the Photo Card printed online and pen.
Recommended Posts:
List Of Nigerian Universities Courses And Admission Requirements
UNN Post UTME 2022/2023 Academic Session
UNICAL Post UTME Form 2022/2023 [How To Apply]
Special Information for All Candidates
Inconsistency in name or picture on Registration Slip is not acceptable to the University and may lead to disqualification of affected candidates. Candidates' names on their O'Level Certificates, UTME Results and other registration documents must be the same.
Candidates MUST be sixteen (16) years of age or above by October 2022, to be eligible for the exercise.
Mobile Phones, iPad, iPod, Walkman and similar gadgets or any extraneous materials will not be allowed into the Screening Venue and its environs.
Candidates must apply within the Registration Period as the online link for the Application Form will be disabled at the close of Registration.
Registration is online; therefore, candidates are not expected to be present physically on the University Campus, but advised to register from any location.
Candidates who chose the University as second choice and wish to be considered for admission can apply for the Screening Exercise ONLY when they have made a change to the University of Port Harcourt as their First Choice.
Candidates must ensure that their O'Level results are uploaded to JAMB website as soon as possible, as those who do not, will not be considered for admission.
Candidates must ensure that they register with their own valid telephone (GSM) numbers and email addresses.
Candidates must report to the designated Screening Venues at the time scheduled on the Photo Card or risk disqualification.
PARENTS AND GUARDIANS, AS WELL AS UNINVITED SECURITY AGENTS WILL NOT BE ALLOWED INTO THE CAMPUS ON THE DAYS OF THE SCREENING EXERCISE.
For Technical Support Services during the registration, send an email to: [email protected]
For further enquiries, please call any of the following numbers: 08091153162, 08185945712, 08175125591
Now that you have read this article to this point, if you have any other questions about the UNICAL Post UTME Form For 2022/2023 Academic Session, ensure that you make use of the comment section below.
If you think that this article will be helpful to other persons, please do well share it via any of the buttons below.