See How to Check JAMB result here
This article is an important guide to all candidates who took the just concluded Join Admission and Matriculation Board examination in 2023.
If you have been looking easiest methods of getting your UTME results for 2023, then you have to take every information contained in this article very serious.
This is to bring to your notice that the Joint Admission and Matriculation Board (JAMB) have released the result of the just concluded 2023 Unified Tertiary Matriculation Examination (UTME).
Following the release of this UTME result, the board has opened portal where every candidate would be able to access, check and print the result slip.
Also, all other UTME result checking platforms have been enabled by the JAMB commission to help all candidates to see their respective examination scores.
In this article, I will be writing on the different platforms/ways in which you can check your UTME/JAMB result; showing you the required steps you are going to follow for you have access to score details.
If you would like to know more about how to check 2023 UTME result, kindly read this article carefully to the end.
How to Check UTME Result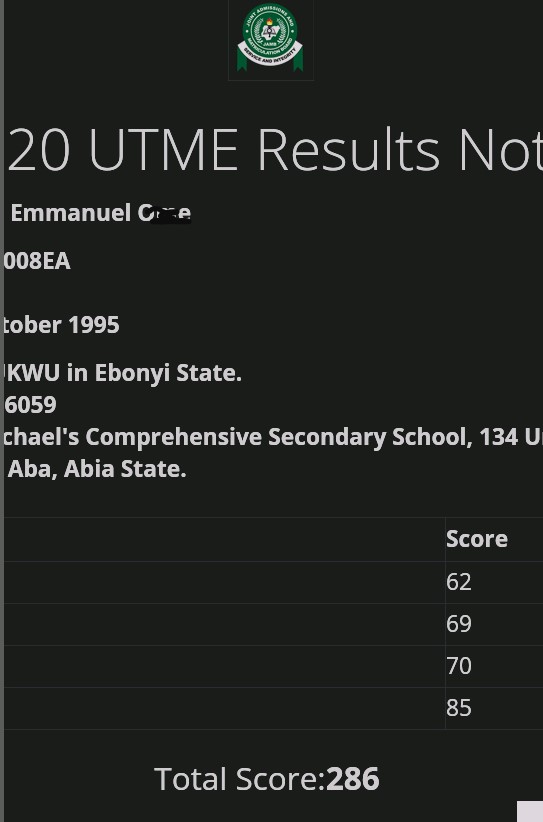 UTME result is checked through different ways which I am going to show you in this section of the article. You can see your JAMB score details through the online and the offline medium.
How to Check UTME Result Via SMS (Offline medium)
The offline medium of checking UTME result is through the use of SMS. This is the easiest way checking the result. It offers everyone equal opportunity to have access to the result at his/her comfort; that is, any phone can be used to do it, whether smart or not smart phone.
What does this process requires?
To receive your JAMB/UTME score details through SMS, you must ensure that the following are intact:
You must make use of the exact phone number that you used during the JAMB registration. Do not use any other phone number.
You must have airtime in the SIM card and note that the cost of receiving your result via SMS is N50 (Fifty Naira only)
You must ensure that you have good network in the phone to be used.
Make sure that you input your correct JAMB Registration Number.
What are the processes?
To access this service, carefully follow the step that I am going to show you in this section to the end
Via SMS, send UTMERESULT to 55019 or 66019 using the same phone number that entered on the JAMB portal during the registration
You would have to receive a reply from the JAMB
It is the reply that contain all your result detail
The following are the likely replies that you are going to get as regards the examination:
If a candidate uses a phone number that was not used to register, a message will be sent to him thus:

'This phone number was not used for registration."

A candidate with a result will receive the message:

"Dear Mr/Miss X, your result is as follows… (and the details will be provided).

A "Result Withheld" message will be sent to the candidate if a result is withheld.
Suppose a candidate belongs to the category being given the benefit of the doubt. In that case, the message to the person will be:

"Result withheld pending the upload of clarifications/document required from you."

If a candidate were absent, s/he would get "CANDIDATE ABSENT" as feedback
A candidate that was ABSENT WITH REGISTRATION NUMBER also CANCELLED will be so informed.
"Invalid Entrance into the Exam Hall" will be sent to a candidate who gained unauthorised access to the examination hall.
See also:
JAMB Cut Off Mark For All Institutions | Universities, Polytechnics And Colleges For 2023/2024
How to Check UTME Result on JAMB Website
To access your result online via the official website, you have to follow these step by step procedures:
1. Visit the official JAMB website at: www.jamb.gov.ng
2. Click on the JAMB SERVICE WEBSITE (E-FACILITY)

3. On the right corner of the page click on the Login button

4. Click on the Print Result tab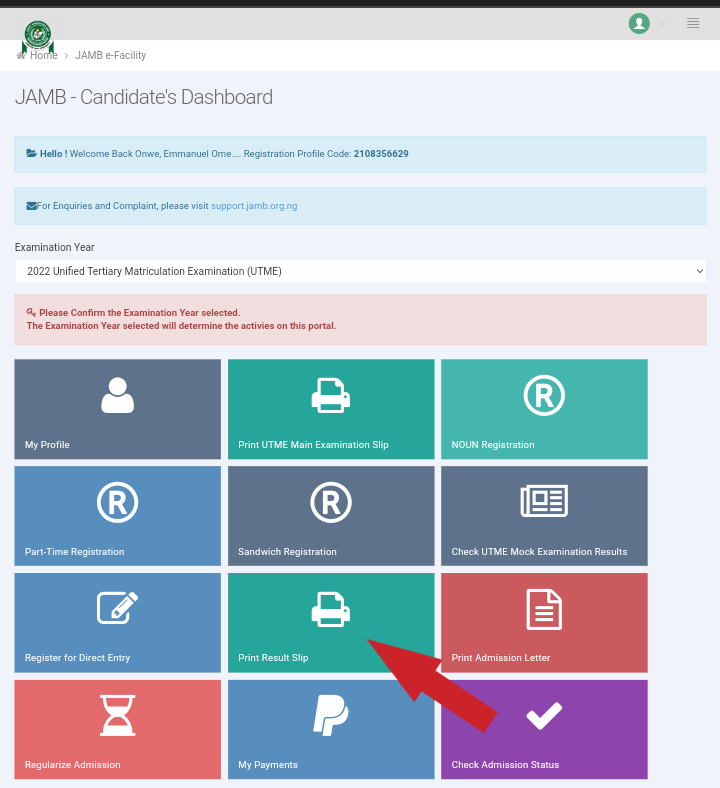 5. Select your examination year and Enter you JAMB Registration number at the appropriate space provided.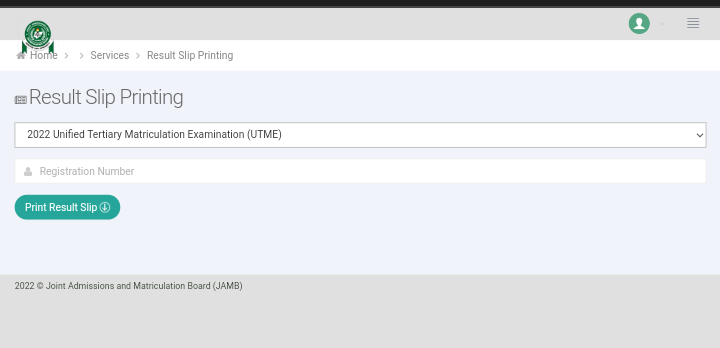 6. Click Print to see your result and print it if you wish to
How to Check UTME Result on JAMB Portal
I know going through the whole processes in the previous section might be too rigorous for some people. Alternatively, you can go straight to the UTME Checking portal as follow:
STEP 1: Go to the Joint Admissions and Matriculations Board (JAMB) result checking website at https://efacility.jamb.gov.ng/CheckUTMEResults
STEP 2: In the required column, enter your Registration Number/Phone Number.
STEP 3: Finally, press the 'Check My Results' button to view your UTME results notification.
The above platforms are where you can check you JAMB result.
In case of any other questions about How to check JAMB result, kindly make use of the comment section below this article.
Do well to share this article with others