INEC Recruitment for 2023 is ongoing. Follow this article to see all you need to know and have for you to be selected.
The Nigerian Independent National Electoral Commission invites all suitably qualified citizens for the application of the ongoing recruitment.
The commission needs both permanent and temporal adhoc staff that will work in their different offices and assist in the successful conduct of the forthcoming general election. If you would like to benefit from this ample opportunity, carefully read and take every information contained in this article very serious.
This article is specially prepared for everyone that is interested in one role or the other. Here, I will be guiding you through the application procedure.
To get more detailed information about the ongoing INEC Recruitment for 2023, continue reading to the end.
Positions Available for Application
Those that are interested in the INEC Recruitment for 2023 should apply for any the following position:
Supervisory Presiding Officer (SPO)
Registration Area Center (RAC) Manager
Presiding Officer (PO)
Assistant Presiding Officer (APO)
Registration Area Technical Support (RATECH)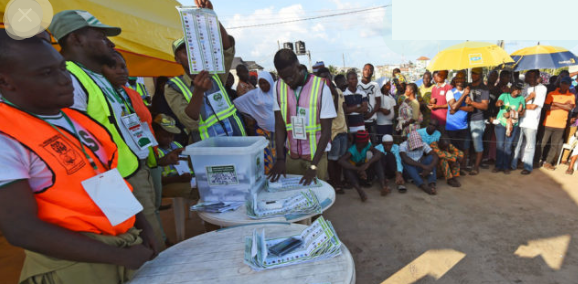 Eligibility For Application For INEC Recruitment
Outlined below are the various positions available and their requirements, Please ensure you read the instructions below before you begin your registration.
1. Supervisory Presiding Officer (SPO)
Requirement: Must be a Public/Civil Servant on Grade Level 10-14 (Priority is given to qualified staff of NYSC/NOA/NIMC/NPC) OR Registration Area Officers/INEC staff not engaged in other duties (GL 10-14).
2. Registration Area Center (RAC) Manager
Requirement: Must be a Head of School or a staff (GL 07 and above) of the school/ institution/ public building hosting the RAC.
3. Presiding Officer (PO) / Assistant Presiding Officer (APO)
Requirements:
Must be a Serving Corps member
OR
A penultimate student of a Federal/State tertiary institution in Nigeria with a knowledge of IT
OR
A staff of an MDA with an OND qualification
OR
A former corps member (Not earlier than 2018 batch)
4. Registration Area Technical Support (RATECH)
Requirements:
Applicants for this category must have an IT background
Must be a suitable INEC staff (not engaged in any other duties)
OR
Serving Corps Members in the Commission (where available)
Returning Applicants should enroll based on the appropriate category that currently applies to them.
See Also:
How To Apply For MTN ICT And Business Skill Training Initiative
Requirements For The Application
Before you register on this portal, please ensure you have the following ready;
A functional email address.
A functioning mobile phone number.
A personal bank account number.
A recent, white background Passport Photograph not larger than 5MB.
Contact details of two referees such as email address and phone number.
A valid Staff ID No./StudentID No (as displayed on your ID Card)
An NYSC Callup Number for former corps members (not earlier than 2018).
NYSC Callup Number for current corps members, 2022.
A copy of highest qualification in .pdf format
A copy of means of identification in .jpg or .jpeg format
How To Apply For INEC Recruitment
The application portal for INEC Recruitment is https://pres.inecnigeria.org/
If you are yet to create an account or register on this platform, then follow the steps outlined below:
1. Review the requirements for the available positions.
You are expected to go through the requirements for all available Election staff positions to determine your Eligibility
2. Click on "Register" and follow the instructions.
3. Create your Password
After creating your password, you are automatically logged into the portal and presented with an application form
4. Fill the Application form.
Please NOTE: This form is segmented into three (3) sections; (i) Personal Information, (ii) Contact Information and (iii) Bank Details.
Kindly enter your names as associated with your BVN.
Ensure you fill in your details correctly. You will not be allowed to edit details once the form is submitted.
5. Upload your passport photograph.
You are required to upload a recent plain background passport photograph of size not larger than 5MB
6. Fill in the details of your referees
7. Check the Attestation box
The information provided, will be validated from your institutions/organization/referees
8. Submit the application
9. Print your acknowledgement slip.
This is mandatory as you will need this for the final verification.
All submissions are FINAL. Kindly ensure you review your information thoroughly before you click the submit button.
NOTE: Deployment would be done based on your selected state of residence.
See Also:
General Selection Criteria
For the avoidance of doubt, all categories of election staff must satisfy the following four (4) conditions prescribed by the Electoral Act:
You must not be a political party member.
You must not have demonstrated or expressed support for any candidate or party.
All interested election staff must apply in person.
Applicants must reside in the STATE selected.
Apply for:
How to Retrieve Lost Accounts
Maybe you must have worked for the Independent National Electoral Commission during the previous election(s) or you have created account on the portal before and you have forgotten your login detail, this section would very important to you.
A lot of returning applicants have worried over the issue of recovering their accounts. Some ask questions "How can I recover my password?", "How can I reset my password?" and more.
In case you are looking for a way to resolve your password issues on the INEC portal, carefully follow the guidelines below:
Changing Password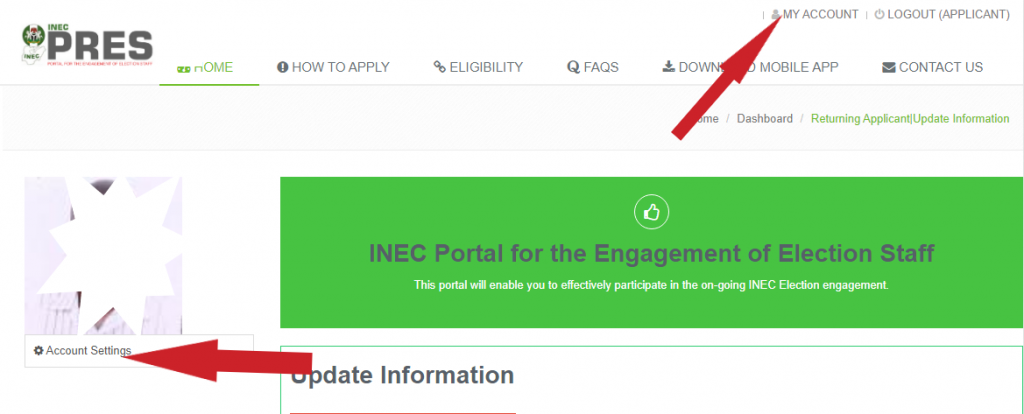 Visit the registration portal at: https://pres.inecnigeria.org/
On the topmost part of the dashboard, click on "My Account" button.
Click again on "Account Setting" under the passport photograph.
Enter the old password
Choose a new password
Confirm the new password
Finally, Click on "Save" button
Resetting Lost Password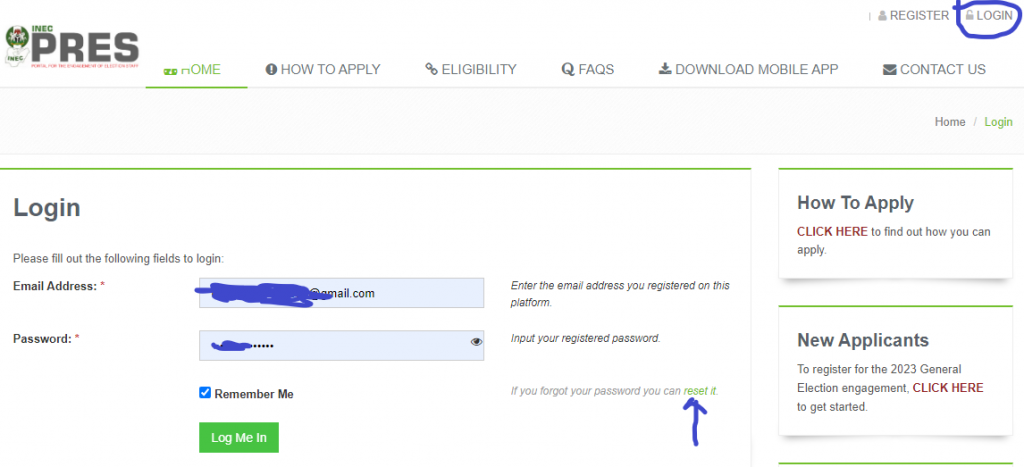 Once you have visited the registration portal, click on the "Login" button at the upper part of the dashboard.
If you have forgotten you login details, click on reset as indicated on the diagram below.
A link will be sent to you via email
Kindly follow the link to reset your password to a new one.
How to Upload Your Passport on the INEC Portal
If you have created your account on the INEC portal and you are still finding it difficult to upload your passport, kindly follow the guideline below:
On the first landing page, click on "My Account"
If you have not uploaded your passport, the profile picture will still be vacant.
Use the upload file icon to upload you passport.
Note: the passport is expected to have a plain (preferably white) background.
Recommended Posts:
Nigeria Immigration Service Recruitment
Asaba Specialist Hospital Recruitment
JEZCO Oil Nigeria Limited Recruitment
Special Information
All applicants should take note of the following information
The Independent National Electoral Commission (INEC) can never you to pay money before you register or to have you selected for the election.
Do not expose your personal information on the INEC portal to others. They can be misused by fraudsters.
You are not expected to submit more than one application.
Your successful submission of your application does not imply that you have been selected for the job.
All registered candidates shall be contacted on due course for further steps to take.
These are all you need to know about the ongoing INEC Recruitment 2023. In case of further inquiries, kindly make use of the comment section below.
If you have read this article and you feel it will be helpful to others, please do well to share it.