See procedures for payment of EBSU school fees.
Many times, I have wondered why students do not pay their school fees by themselves, going from one place to another, from one person to another for them to get their school fees paid. It is always because they do not have the money to pay the school fees, but because they do not know how to pay their school successfully.
Some of these students also go to the extent of giving out their money to some other persons whom they think know how to make the payment. Thinking about this thing, I discovered that it is a big risk for students not to pay their school fees by themselves at this age where almost everyone is into Information Communication Technology (ICT).
Many risks are involved by transferring money from one to another via unauthorised means. The same is involved in carrying money around by hand from one cyber cafe to another.
Recently, they have been many occasions of theft and loss of school fees encountered by students as a result of giving their school fees to another person to pay for them.
Also, cybercrime which has become almost everyday case has affected students badly. People steal your personal information like email address, passwords, Bank Verification numbers, PINs, and other confidential information on the course of releasing them to people that could assist you in paying the school fees.
All these and many more are the risks and disadvantages involved in the payment of school fees through another person.
In a bid to proffer solutions to the above-stated problems, I decided to help both prospective students of Ebonyi State University (EBSU) and other students of the institution find their lost ways. It is all about how to pay Ebonyi State University (EBSU) School Fees.
Only if they can pay attention to every secret that I am going to reveal to them through this article. In case you have been encountering difficulties in paying EBSU School Fees, I will advise you not to overlook this article.
Read this article thoroughly and follow the guidelines given if you want to know more about how to pay EBSU School Fees successfully.
Procedure for Payment of EBSU School Fees
To pay the Ebonyi State University (EBSU) School Fees, there is a step by step procedure to be followed for a successful payment. That is what I am going unveil to you in this section of the article.
If you want to how the Ebonyi State University (EBSU) School Fees are being paid, carefully follow the under listed guidelines
Go to the Ebonyi State University (EBSU) official school website at: https://ebsu.edu.ng/
2. Go to the Portal option on the dashboard, they will be fly out menus that will pop out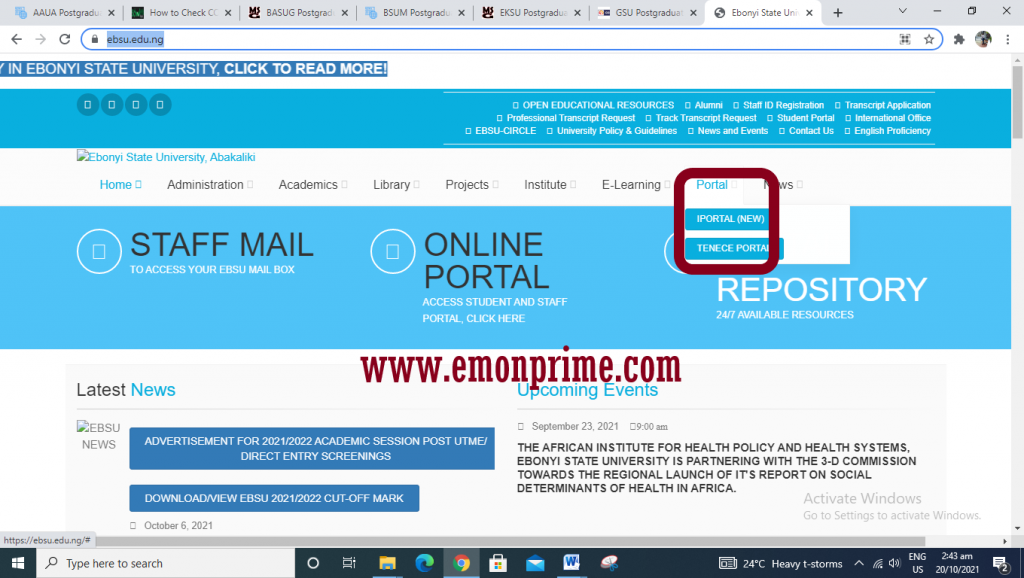 3. Click on the Iportal option
4. Login with your Portal ID and Password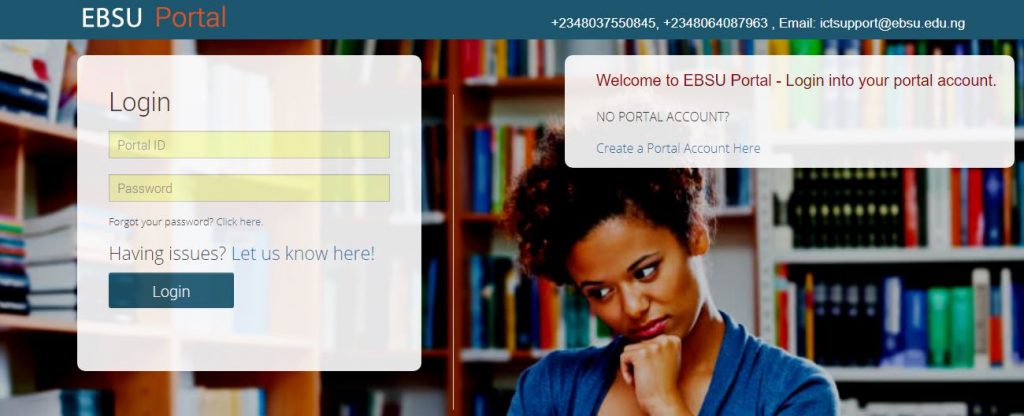 5. Click on the School fees payment option
6. Generate the RRR Number through the Remita platform
7. Take your RRR number to the School ICT to validate it
8. Come back to the platform and complete you school fees payment
9. Once you are through with the payment, make sure that you print the school fees Receipt
10. Register your courses as soon as you have completed your school payment online
See also: How to Pay EBSU Acceptance Fee Online
NOTE:
You are expected to pay your school fees on time as there is going to be an additional charge which is the penalty for all late payments of school fees and registrations
Once you have generated your RRR number through the Remita platform during the payment of the school fees, make sure that you use it before it gets expired.
Ensure that you register all your due courses after payment of your school fees
You can also use the TENECE PORTAL for payment of the EBSU School Fees
I hope that you have found this article useful and you would be able to pay your school fees by yourself after you have read through this article. Do well to share this post to other social media platforms to ensure that others benefit from it.
In case of any other inquiries about how to pay the EBSU School Fees, do not hesitate to use the comment section below this article.
Please share this important information to others