Courses Offered in FUDMA and Admission Requirements
Are you a student who is yet to secure university admission? Are you interested in the Federal University, Dutsin-Ma (FUDMA) undergraduate admission? Did you sit for 2022 UTME exercise and you would want consider FUDMA as one of your choices of institution?
If any of your responses to any of the above questions is yes, then this article is especially for you. Before considering studying in any university, the first thing that you have put into consideration, apart from the amount of school fees, is the standard of their curriculum.
This encompasses the courses that are offered in the institution. In this article, I will be writing on the List of undergraduate courses that are offered in the Federal University, Dutsin-Ma.
If have made this university your choice or you would like to study in the institution, make read this article carefully.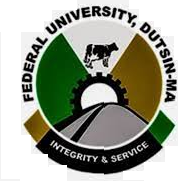 Federal University Dutsin-Ma
The Federal University, Dutsin-ma is located in Dutsin-ma Local government Area of Katsina State, which is located in the North-Western region of Nigeria, bordering Niger Republic, Kaduna, Kano and Jigawa States.
The establishment of the Federal University Dutsin-ma along with eight other Federal Universities, is in line with the Federal Government of Nigeria's determination to run a technology driven economy with the aim of achieving the vision 20:2020, to further improve the nation's knowledge base and expand access to education, which is a defining factor in the establishment of institutions of learning in Nigeria.
The overall goal of the establishment was to tackle the challenges of inadequate space for eligible university applicants.
Thus the nine new Federal Universities, which were established in States where none existed, are positioned to strike a balance between access, equity and quality, thereby creating an avenue for indigenous appreciation of educational values.
List of Faculties in Federal University Dutsin-Ma (FUDMA)
The following are the list of courses that are offered in the Federal University, Dutsin-Ma:
Faculty Of Agriculture And Agricultural Technology
Faculty Of Arts
Faculty Of Education
Faculty Of Engineering And Technology
Faculty Of Life Science
Faculty Of Management Sciences
Faculty Of Physical Science
Faculty Of Social Sciences
Faculty Of General And Preliminary Studies
See Also:
List of Available Undergraduate Scholarships
JAMB Cut Off Mark For All Institutions | Universities, Polytechnics And Colleges For 2022/2023
List of Courses Offered In Federal University, Dutsin-Ma (FUDMA)
The table below presents the list of undergraduate courses that are offered in the Federal University, Dutsin-Ma (FUDMA) for the 2022/2023 academic session:
ACCOUNTANCY/ACCOUNTING
AGRICULTURE
ANIMAL AND ENVIRONMENTAL BIOLOGY
ARABIC STUDIES
BIOCHEMISTRY
BIOLOGY
BUSINESS EDUCATION
BUSINESS MANAGEMENT
CHEMISTRY
COMPUTER, INFORMATION AND COMMUNICATION SCIENCE
EARLY CHILDHOOD EDUCATION
ECONOMICS
EDUCATION AND BIOLOGY
EDUCATION AND CHEMISTRY:
EDUCATION AND ENGLISH LANGUAGE
EDUCATION AND MATHEMATICS
EDUCATION AND PHYSICS
EDUCATIONAL ADMINISTRATION
ENGLISH LANGUAGE
FISHERIES AND AQUACULTURE:
FOOD SCIENCE
FORESTRY
GEOGRAPHY
GUIDANCE AND COUNSELLING
HAUSA
HISTORY
HUMAN KINETICS AND HEALTH EDUCATION
INDUSTRIAL CHEMISTRY
ISLAMIC STUDIES
LIBRARY AND INFORMATION SCIENCE
LIBRARY AND INFORMATION SCIENCE
MATHEMATICS
MICROBIOLOGY
PHYSICS
PHYSICS ELECTRONICS
PLANT SCIENCE AND BIOTECHNOLOGY
POLITICAL SCIENCE
PRIMARY EDUCATION STUDIES
SOCIOLOGY
SPECIAL EDUCATION
TEACHER EDUCATION SCIENCE
Important Posts:
List Of Nigerian Universities Courses And Admission Requirements
Courses Offered In Federal University Dutse (FUD)[Newly Released]
FUGASHUA Courses And Requirements 2022/2023
FUDMA General Admission Requirements
To get admission into any of the departments/courses that have been listed in the previous section, there some qualifications that you must possess. There are the admission requirements for each of the courses.
FUDMA general admission requirements for all departments are:
FUDMA Admission Requirements For UTME Candidates
All applicants seeking admission into FUDMA must possess the list requirement below
Applicant must at least 16 year of age
Applicant must at least possess a credit level passes in Five (5) subjects including English language and Mathematics and any other relevant subjects at the SSCE/GCE 'O' level/NECO or its equivalent.
Applicant must meet all Faculty and Departmental requirements.
Applicant must obtain an acceptable score at the compulsory University post UTME screening test;
NOTE: Mathematics is compulsory for all science based courses.
ADMISSION REQUIREMENTS FOR DIRECT ENTRY CANDIDATES:
Applicant with two (2) A level passes or its equivalent at the advanced level in one or more relevant subjects may be admitted into 200 level of the programme.
The applicant must have bought and processed the direct entry form from JAMB
All that you have seen in this article are what you are expected to know about the List of Courses Offered in FUDMA. For any other questions and comments, kindly make use of the comment section below this article.
If you have read this article and you feel it will be helpful to someone, do well to share it.