AGIF – Alex and Grace Izinyon Foundation
Alex and Grace Izinyon Foundation is a non-profit organisation with a firm belief that the well-being of every life matters. the organisation holds that every life can thrive well if watered with the most basic resources and if stirred in the right direction.
The Alex and Grace Izinyon Foundation was established to advance Dr Alex and Mrs Grace Izinyon's benevolence. This is fueled by their firm belief that every life is valuable and with minimal resources every human being can thrive and achieve purpose when stirred in the right direction
It is their belief that by helping one person at a time a difference is made to a larger number in the long run and their lives are improved. The Alex and Grace Izinyon Foundation ensures these core values are represented. To this end, AGIF strives at promoting the wellbeing of the disadvantaged around us through the understated pillars.
Major Focus of Alex and Grace Foundation (AGIF)
Alex and Grace Izinyon Foundation Focuses on the following:
Education
These include but are not limited to:
Scholarship support across ages and levels.
Approved learning materials to children.
Skills acquisition support.
Renovation and refurbishing of educational establishments.
See Also: How To Study Abroad | Tips On How To Secure Admission Outside Your Country
Health Services
These include but are not limited to:
Provision of access to health services to indigent persons.
Engagement in public health initiatives and campaigns.
Renovation of health facilities.
Youth Empowerment
This pillar was moulded following our observation of the glaring need to:
Empower youths to have a voice and develop clarity in their purpose.
Engage youths in developing the capacity to bring positive change in their immediate sphere of influence and environment.
Support small and medium businesses, as well as entrepreneurs who we believe are the future of the Nigerian economy.
Poverty & Inequity Alleviation
Through community outreach programmes, the organisation can reach many of the underserved population. This pillar aims to:
Provide social amenities in rural areas.
Promote the welfare of indigent persons.
Provide economic, business, legal and social support to individuals.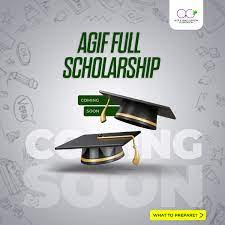 Apply for: York University Tentanda Via Award For International Students In Canada
AGIF Full Scholarship 2023/2024
The application for AGIF Full Scholarship for 2023 is ongoing. Interested and suitably qualified candidates are advised to apply now. The application starts on June 19, and stops on August 18, 2023.
Related Post:
University Of Saskatchewan Guaranteed Entrance Scholarship

University Of Saskatchewan Chancellors' Scholarships

Edwards Undergraduate Scholarships At University Of Saskatchewan
Eligibility Criteria
These Categories of individuals are eligible for AGIF Full Scholarship 2023:
Children, youths and adolescents who are orphans or single children with a single parent
Children, youths and adolescents with single parents earning not more than N150,000 monthly and have more than two siblings
School-age children and youths (6-14 years)
Not enrolled in the formal school system
Children, youths and adolescents with a relatively high need in comparison to their academic performance
Individuals aged 15-29 years who have never been
To school and cannot read or write.
Individuals aged 15-29 years who are outstanding academically
And cannot afford secondary or tertiary education
How to Apply for AGIF Full Scholarship
The application of AGIF Full scholarship is done online via the official website. The link for the application is Alex and Grace Izinyon Foundation Full Scholarship
Once you open the link, make sure carefully fill form with the required details
After the completion of the form, kindly submit the application form online
I hope you have found this article helpful, In case of any other questions about AGIF Full Scholarship 2023, do well to use the comment section.
You May Also Like:
University of Glasgow scholarships
CSC Scholarship For American Students | Shaanxi Normal University, China
Shaanxi Normal University International Student Scholarship Program
Canadian Commonwealth Scholarship | Fully-Funded
Italian Government Scholarship For Foreign Students
Commonwealth Shared Scholarships For International Students | Fully-Funded
Apply For Queen Elizabeth Common Wealth Scholarship For International Students
Please share this information to others via the social buttons below,