Maltina Teacher of the Year Award 2023 | 8th Edition: See how to apply here.
The application for Maltina Teacher of the Year Award for 2023, 9th edition competition is ongoing. All interested secondary school teachers are advised to apply for this award.
About Maltina Teacher of the Year Award
Maltina Teacher of the Year Award is a program that is anchored by the Maltina group, a Nigerian Brewery Company in a bid to continue to show its support to education in Nigeria. It is aimed at recognizing and rewarding exceptional teachers in Nigeria.
The initiative is open to teachers in ALL secondary schools across the country. There will be champions from each state of the federation and the FCT from which the overall winner will emerge – State Champions that emerges from the 36 States and the FCT are recognised and rewarded, the National Winners emerges from these State Champions after further assessment.
Nigerian Electricity Regulatory Commission (NERC) is Recruiting
Maltina Teacher of the Year Award Winners
The following are some of the notable beneficiaries of the Maltina Teacher of the Year Award between 2015-2021
Mr. Abanika Taiye
2021 Winner
Abanika Taiye, a Design and Technology/Basic Technology/Technical Drawing teacher at James Hope College, Agbor, Delta State, Nigeria. He emerged the winner of the prestigious Maltina Teacher of The Year award in 2021. He remains ever passionate and continues to give unwavering support to students and now shares best practices in education with educators.
Ms. Oluwabunmi Anani
2020 Winner
Oluwabunmi Ahoefa Anani hails from Lagos State, Nigeria and she is resident in Yola, Adamawa State where she teaches English Language and Literature at Concordia College Yola. Oluwabunmi who enjoys organizing programmes for children and teenagers, has executed a number of projects through her initiative: the Initiative for Educational Transformation (IET).
Mr. Ezem Collins
2019 Winner
Ezem Collins, a teacher at the Royal Family Academy, Abuja has emerged the 2019 Maltina Teacher of the Year. Collins, a Civic Education and Christian Religious Studies teacher was declared winner of the prestigious honour at the grand finale held on Friday, October 18, at Eko Hotel & Suites, Victoria Island, Lagos.
Mr. Olasunkanmi Opeifa
2018 Winner
Olasunkanmi who teaches in Government Day Secondary School Karu, a school in a semi-rural area of Abuja serving children of low-income earners in the civil service, market traders and artisans. He has also published a book on learning English in order to reach more students beyond his community, and introduced free weekend tutorials in order to cover the syllabus with them.
Mr. Ariguzo Udochukwu
2017 Winner
Ariguzo Udochukwu is a seasoned registered educator and administrator. He has taught Biology, Chemistry, and Checkpoint Science at various international schools since commencing his teaching career over 14 years ago. He is certified to teach British (Cambridge) curriculum by Cambridge International Examinations (CIE), UK.
Mr. Imoh Enoh Essien
2016 Winner
Imoh Essien teaches at the Special Education Center for Exceptional Children, Uyo. He attained his first and second degrees in Special Education. Essien who is a top-class professional caregiver, tutor and guide to children with special needs believes that children can best be served through the cooperative effort of teachers, principals, support personnel and their parents.
Mrs. Rose Nkemdilim Obi
2015 Winner
Rose Nkemdilim Obi is a Mathematics and Chemistry teacher at federal Government Girls' College, Onitsha, with 16 years teaching experience. Her engaging method of teaching mixed with a unique way of inspiring students towards studying sciences, has earned her numerous awards which include emerging the Maiden Winner of Maltina Teacher of the year.
Who Should Apply for Maltina Teacher of the Year Award 2023
The application for the Maltina Teacher of the Year Award 9th edition competition is open to all qualified and recognised secondary school teacher across the 36 states of Nigeria.
The applicant must also possess the qualifications that make for a good teacher.
Read also: Qualities Of A Good Teacher
Benefits of Maltina Teacher of the Year Award
Any teacher who emerges the winner of the Maltina Teacher of the year will be rewarded with huge financial and other material awards. Each winner is rewarded as follow:

Winner
Cash Price: N6,500,000
Capacity Development Training
Fully equipped classroom block or Computer laboratory
1st Runner-Up
Cash price: N1,500,000
2nd Runner-Up
Cash price: N1,250,000
State Champions
Cash price: N500,000 each
Apply for: Nigerian Breweries Graduate Management Development Scheme 2023 | Finance, Marketing, HR and Digital & Technology
Nigerian Breweries Graduate Management Development Scheme 2023 – Supply Chain
How to Apply for Maltina Teacher of the Year Competition
There are only two ways in which one can apply for the Maltina Teacher of the Year Competition. These includes; by filling the application form online and by downloading the application form from the website to fill and submit it later.
If you are interested in the application, kindly follow the procedures that I am going to show you in this section.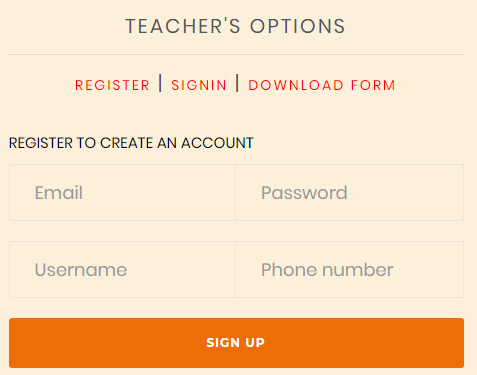 Log on to the application at: https://maltinateacheroftheyear.com/
Sign in to your account if you have account with the Maltina group already.
Create account by signing Up if you have not created any account on the portal before.
You can either fill the application form online, OR
Download the application form and fill it offline.
Submit the application online.
If you downloaded the application form to fill offline, carefully fill, scan and send your completed application form by mail to

[email protected]
Documents Required for the Application
While submitting you application, ensure that you scan and attach the following documents to your application:
Birth certificate/Sworn affidavit of age
Teachers Registration Council Certificate
A Valid ID card (Permanent Voter's Card, International Passport, National ID Card, Driver's Licence)
Credentials/Certificates
Passport photograph (5cm x 5cm)
Awards and Testimonials
Application Period
The 2023 Maltina Teacher of the Year competition application opens on the 26th May, 2023 and closes on 22nd of July, 2023 .
Note: Late applications are not accepted
Related Links:
BUA Group Recruiting | See How To Apply Here
Software Engineering Job At Gemstone Microfinance | Full-Time Job
Front End Developer Job At Pharmarun
Asaba Specialist Hospital Recruitment
Mastercard Graduate Launch Program | Full Time Job
JEZCO Oil Nigeria Limited Recruitment
Landmark University Recruitment
BUA Group Recruiting | See How To Apply Here
I hope that you found the information contained in this article helpful. If you have any other inquiries about Maltina Teacher of the Year Award 2023, kindly make use of the comment section on this page.
Do well to share this information with others!