The application for the federal Government Education Bursary 2023 for Nigerian Undergraduate students has started. The application procedures, eligibility and other requirements for the application are well detailed in this article.
Are you an Undergraduate student of either College of Education or University? Are you studying any of the Education Courses in public institutions? If you have positive answers to the above questions, then this article is just for you.
I have good news for you! The Federal Ministry of Education, through the Federal Government of Nigeria has granted Federal Government Bursary Awards to Nigerian students studying education in Nigerian Colleges of Education and Universities.
In this article, I will be guiding you on the things that you need to know before, during and after the application. They are those things that you must do to ensure that you are selected as one of the beneficiaries of this bursary.
To get more detailed information about this Federal Government Bursary Awards, do well to read this article to the end.
Important Links
Federal Government Bursary Awards
In fulfillment of Mr. President's commitment to reform the Education sector, the Minister of Education (HME), Mallam Adamu Adamu hereby invites applications from qualified education students in Nigerian Colleges of Education and Universities to participate in the 2023 Bursary Awards.
Please note that relevant information has been submitted to the Federal Ministry of Education by the Nigerian University Commission (NUC) and the National Commission of Colleges of Education (NCCE).
You May Also Like:

Top 12 Recognized Institutions Offering Graphic Design Courses In Nigeria | Universities And Colleges
Eligibility Criteria for Federal Government Bursary Awards
Before you proceed to the application of this bursary, ensure that you have fulfilled these requirements:
Applicants studying Education in Nigerian Colleges of Education and Universities.
Applicants must be full-time students.
How to Apply for Federal Government Bursary Awards
The application of the Federal Government Bursary Awards 2023 is done online only and the APPLICATION FORMS are available online at www.education.gov.ng.
The methods of the application are as listed below in this section the article:
Complete form online
Submit and print a copy
Attach photocopies of the following documents:
a. Letter of Admission
b. Current school's identity card.
How to Apply Via Federal Scholarship Board
The second method of application of the Federal Government Education Bursary 2023 is through the Federal Scholarship Board website. To use this platform for the application, kindly visit the portal at http://fsbn.com.ng/scholarships and follow the instructions below:
1. Go to the registration portal at: http://fsbn.com.ng/scholarships
2. Click on Apply Now below the page

3. Create account by filling the entries shown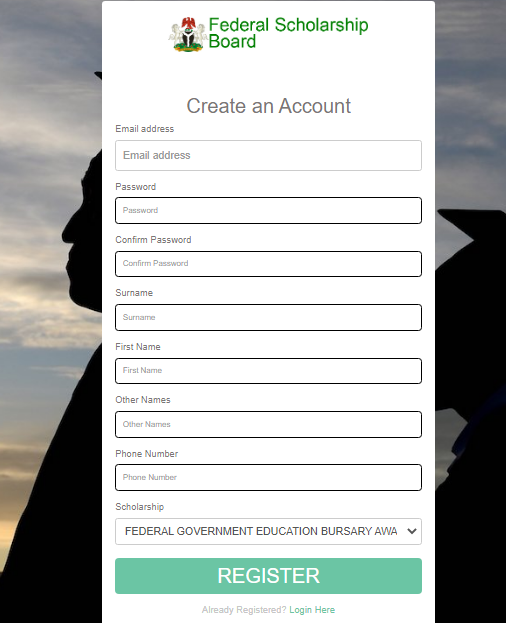 4. Click on Register
5. Follow the instruction provided therein to complete the online form.
6. Submit all required documents
7. Review you application
8. Finally, Submit the application
Application Deadline
The application deadline for the 2023 Federal Government Education Bursary Awards is 21st October, 2023. All interested candidates are advised to complete their application processes on or before the stated date as no late entry shall be accepted.
However, this article shall be updated if the Federal Ministry of Education makes any changes on the application deadline.
Apply For:
Price For The Federal Government Bursary Awards
At the end of the application, all successfully selected students shall receive a disbursement of N75,000.00 Education Bursary.
Read About:
How To Calculate CGPA In Nigerian Institutions
Can Year One Students Apply for Federal Government Bursary Awards?
Yes
Any undergraduate student who is under education faculty/department in Nigerian University or College of Education can apply for this award as far as the student possess the necessary qualifications and documents such as School Admission Letter and the School ID Card.
Recommended Posts:
David Oyedepo Foundation Scholarship
University of Glasgow scholarships
Microsoft Cloud & Data Scholarship | 210 International Scholarship Awards
Robert Gordon University International Scholarship In UK | RGU Sports International Scholarships
University Of Calabria International Scholarship – A.Y.
Important Information to All Applicants
Applicants should note that:
Eligible candidates are advised to make only one entry as multiple entries will disqualify the applicants.
All applicants (physically challenged inclusive) must be in their first year or above.
A beneficiary of any scholarship is not eligible.
This particular application does not attract any processing fee. Therefore, beware of fraudsters!
These are all you need to know about the Federal Government Education Bursary Awards 2023. You ask any question using the comment section under this article or visit the official website for more clarifications.
Please do well share this article if think it will helpful to someone.