In this article, I am going to be giving legit information on everything about the University of Ilorin (UNILORIN) Admission List for 2023/2024 Academic Session. This important update is specially published for the benefit of the general public and those who registered and participated in the just concluded UNILORIN Post UTME Screening Exercise. If you belong to these categories of persons, ensure you read this article carefully to the end.
University of Ilorin
The University of Ilorin, also known as Unilorin, is a federal government-owned university located in Ilorin, Kwara State, Nigeria. Established in August 1975 by a decree of the federal military government, its main objective was to provide more opportunities for Nigerians seeking university education and to develop high-level manpower to support the rapidly growing economy.
UNILORIN has one of the largest land areas among higher institutions in the country, covering approximately 15,000 hectares. In 2021, it was reported by the Joint Admission Matriculation Board (JAMB) to be the most sought-after university in Nigeria.
UNILORIN Admission Lists 2023
The University of Ilorin (UNILORIN) Admission Lists for the batches have been released both on the JAMB CAP and on the school portal. The management of the institution announced the released shortly after the conclusion of the 2023/2024 UNILORIN Post UTME exercise.
According to university, UNILORIN released about 6 (Six) admission lists every single year. They include:
UNILORIN merit/first batch admission list
3 (three) Supplementary admission lists
one Direct Entry list, and
the International Admission List.
All together, they are about 6 admission lists that were released by the University of Ilorin (UNILORIN).
See Also:
Updated UNILORIN Undergraduate Courses And Requirements 
Official UNILORIN Departmental Cut-Off Marks
How to Check UNILORIN Admission
The University of Ilorin (UNILORIN) Admission List are checked online by following two major procedures/platforms:
through the JAMB CAP
University of Ilorin Admission Portal
with any of these platforms, candidates can know their respective admission status irrespective of their locations. Remember that UNILORIN may/may not paste admission lists on the notice board as that is becoming obsolete. kindly use your JAMB Reg number and any other required details to see your UNILORIN admission status online.
UNILORIN Admission Portal
The only officially and generally recognised admission portal of the University of Ilorin is https://uilugportal.unilorin.edu.ng/ . This is the portal where you can check your admission status and any other registration required as a fresh student. To check your admission status on the UNILORIN Admission portal, you have to follow the procedures given below: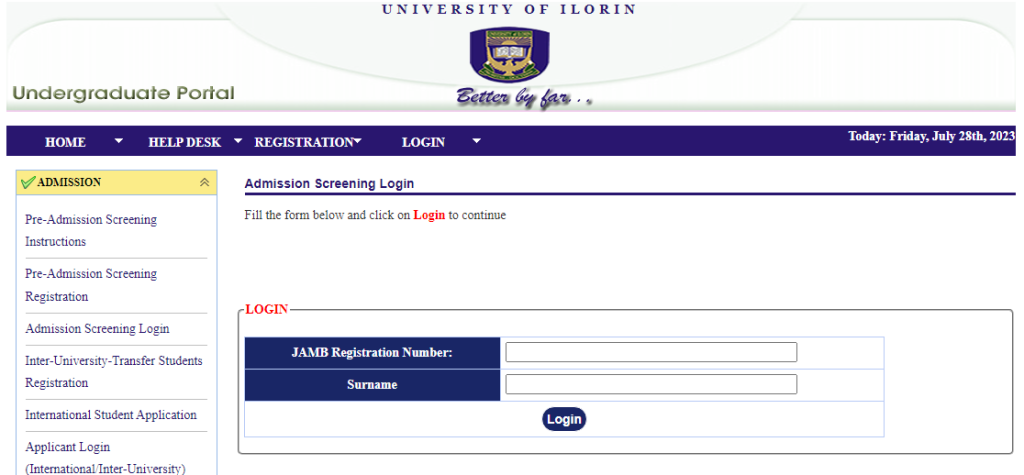 Visit the portal at: https://uilugportal.unilorin.edu.ng/
Go to the admission checking section on the page
Enter you JAMB Registration Number and Surname
Click on login to see your admission status
International students are required to see their admission list using the link: International Admission List.
STEP I: Check your name on the admission list.
STEP II: Scroll down to the bottom of this page and click on the link to complete your biodata.
Note: Your Registration number and Surname will be required to complete your biodata.
UNILORIN Admission list On JAMB CAPS
The second platform to see if you have been offered admission by the University of Ilorin is on the JAMB CAP. You can follow the procedures below to see you admission status:
Before you proceed: Confirm Your JAMB Result 2023 Here | Via UTME Result Checker
Step 1: visit the official JAMB website at: www.jamb.gov.ng
Step 2: Login to the JAMB SERVICE WEBSITE (E-FACILITIES) with your email address and password (that is the one you used during the JAMB registration
Step 3: Go to "Admission Status"
Step 4: Go to "Access My CAP"
Step 5: Click on "Check Admission Status"
Step 6: If you are admitted, your CAP will show "ADMITTED" with the course that you are admitted into and the institution, University of Ilorin (UNILORIN). If you are not admitted, it will show "NOT ADMITTED"
Check:
What to Do After Checking UNILORIN Admission Status
Candidates successfully admitted into the University of Ilorin (UNILORIN) first-degree programmes are advised to:
Login to their JAMB Central Admission Processing System (CAPS) and ACCEPT or REJECT their admission.
Print their JAMB admission letter after accepting the admission.
Print their original JAMB result slip (this comes with passport photography affixed to it).
Apply for a change of course on the JAMB Portal in case they are offered courses different from the ones they initially applied for.
More Information on UNILORIN Admission
If the your JAMB CAPS is still "ADMISSION IN PROGRESS", it means that JAMB is still working on uploading of your admission status. It is definitely going to show ADMITTED once they are through with the processes involved.
In case your name is not found on the 1st, 2nd or 3rd admission list on the UNILORIN Portal, you do not have to give up. There is still hope of getting admission for you if have gotten up to the JAMB and School Cut Off Marks. You have to keep checking until all the batches of admission lists are out.
How many students does UNILORIN admit yearly?
The University of Ilorin admitted 12,630 new students for the last academic year from a pool of 102,000 applicants who sought admission through the Joint Admission and Matriculation Board (JAMB). This show that University of Ilorin admits between 10% to 20% of their applicants for every academic session.
I hope you have found this article helpful. In case of any other questions about UNILORIN Admission Lists 2023/2024 Academic Session, kindly make use of the comment section below this article.