The online registration for March 2023 Accounting Technicians Scheme West African Examination is current ongoing. The Association of Accountancy Bodies in West Africa (ABWA) wishes to invite all interested and suitably qualified candidates for the application of the examination.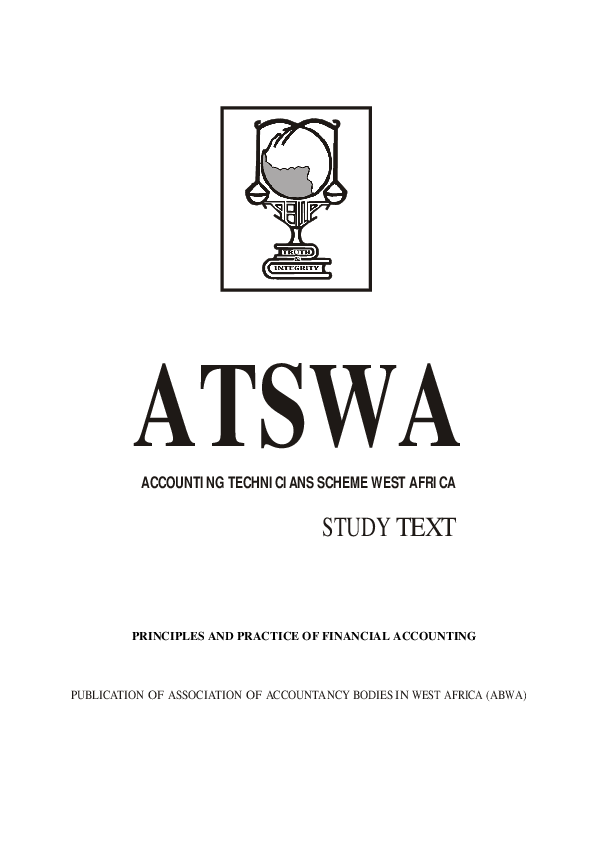 After reading this article you are going to get all the required information that you need as regards the examination. If you would like to know more about the ATSWA examination for March 2023, ensure that you this article carefully to the end.
Introduction
The Association of Accountancy Bodies in West Africa (ABWA) in pursuance of regional cooperation and integration and its commitment to strengthening and consolidating Accounting Standards and Practice has put in place the Accounting Technicians Scheme West Africa (ATSWA)
Objectives of ATSWA
The objectives on the Scheme are as follows:
i. To provide a recognized qualification for the accounting and auditing staff employed in the public sector, industry, commerce and in various offices of practicing accountants.
ii. To help meet the need for middle-level accounting personnel in the economy especially for the accounting and finance departments of various government agencies and parastatals.
iii. To give status to Accounting Technicians
iv. To provide an opportunity for the Accounting Technicians to progress towards "Professional Qualification" as Chartered Accountants
Beneficiaries Of The Accounting Technicians Scheme West African (ATSWA)
The regional economies will benefit from the increased productivity of a well-trained and disciplined work force. The individual technician as well as the organization he works for will also benefit.
Specifically the following are some of the beneficiaries:
(a) Accounting Supervisors in Government, Commerce and Industry, as well as Finance and Revenue Departments.
(b) Accounts Clerks or Supervisors in Government-owned companies and parastatals including School Bursars.
(c) Audit Trainees in practicing firms
(d) Middle-level accounting personnel in private and Non-Governmental Organizations.
ATSWA Examination
The ATSWA Examination takes place in March and September of each year. Dates of examinations are advertised in national dailies and appropriate forms are obtainable at designated banks after paying the stipulated fees. The examination is divided into 3 parts. Each part consists of four (4) subjects as follows:
Qualification Exemption
i) OND (Accountancy) All subjects in parts 1
ii) OND (Financial Studies) All subjects in part I and Principles and practice of Financial Accounting in part II
iii) NCE (Accountancy) All subjects in parts I and II
iv OND (Business Studies/ Business Admin All subjects in part I except Business law
v AAT (UK) All subjects in parts I, II and III except Law and Taxation.
vi) Other applicable Qualifications Subject for subject in part I and II.
Part 1
Basic Accounting Processes and systems.
Economics.
Business Law.
Communication skills
Part 2
Principles and Practice of Financial Accounting.
Government Accounting.
Quantitative Analysis.
Information Technology.
Part 3.
Preparation and audit of Financial Statements.
Cost Accounting and Budgeting.
Preparing Tax Computation and Returns.
Management.
Benefits Of Holding ATSWA Certificate
ATSWA graduates stand to gain the following.
i) He /She will be formally admitted as Associate Member of Association of Accounting Technicians Scheme and use the title AATWA after his/her names.
ii) His /Her qualifications is recognized by employers.
iii) He/She may enroll for the HND or B.Sc, programme in Accoutancy in higher institutions of learning.
iv) He/She may proceed to enroll for the Professional examinations and will be granted some exemptions.
Registration For Student Membership
Candidates who wish to write the ATSWA examination should first register as students under the Scheme.
Application for registration should be made on the prescribed form obtainable from the ABWA Secretariat or offices of the ABWA Member Institutes.
ATSWA Exemption Guidelines
Exemption for candidates in the ATSWA Syllabus is as outlined below: only registration students can apply for exemption from some parts of the ATSWA Examinations.
Eligibility For Scheme Memebership Of AATWA
Graduates are admitted into membership after acquiring one year's relevant work experience. They can then use the designatory letters AATWA' after their names.
March 2023 Account Technician Scheme West African Examination
The Accounting Technicians Scheme, West Africa (ATSWA) examinations will hold in member countries on 28 & 29 March, 2023 under the Council of The Association of Accountancy Bodies in West Africa (ABWA). Candidates who wants to register for the examination should follow the instructions contained in this article.
ATSWA Examination Centres
The examinations will be held in the following centres in Nigeria: Aba, Abakaliki, Abeokuta, Abuja, Ado-Ekiti, Akure, Alimosho, Amuwo-Odofin, Auchi, Awka, Benin-City, Calabar, Enugu, Ibadan, Ikeja, Ikorodu, llesha, lisan, Ilorin, Jalingo, Jos, Kaduna, Kano, LASU-OJO, Lokoja, Makurdi, Malete, Minna, Mowe, Ogbomoso, Okija, Omu-Aran, Onitsha, Osogbo, Otta, Owerri, Oye-Ekiti, Oyo, Port- Harcourt, Umuahia, Uyo, Victoria-Island, Warri and Yenagoa.
Where registration for a centre is low, the institute reserves the right to transfer candidates from the chosen centre to the nearest centre, at no cost to the Institute.
ATSWA Student Registration Requirements
(a) Five (5) credits passes including English Language and Mathematics at the West African School Certificate Examination, General Certificate of Education or Senior Secondary School Certificate Examination in not more than two sittings.
(b) General Business Certificate Examination formerly RSA Stage II
(c) National Business and Technical Examination Board Certificate (NABTEB).
(d) Ordinary National Diploma of any Polytechnic recognized by the ABWA Member Institutes.
(e) National Certificate of Education (NCE).
(f) Any other relevant qualification approved by the ABWA Council.
(g) The examination is open to the institute's registered financial students.
ATSWA Examination Registration Period
The registration PORTAL for the MARCH 2023 diet of ATSWA Examination opens on Thursday, December 8, 2022, and will close on Thursday, March 23, 2023.
Mode Of Registration For ATSWA Examinations
Candidates are required to register online for March 2023 diet examinations at the ICAN website www.icanportal.org/ats/examinations
Other interested persons should visit the Institute's website www.icanig.org for guidelines on Students' Registration.
Free Aid to Candidates: All ATSWA candidates can download for free, the soft copies of STUDY TEXTS and INSIGHTS from our website https://icanig.org/students/atswa-learning-materials
Directives For Online Registration
The registration for the Account Technician Scheme West African Examination 2023 is made only on the online platforms. Kindly follow the procedure for a successful registration.
Before payment:
Check and Print out your Examination/Financial Status at the institute's ATS students portal: www.icanportal.org/ats before effecting payment through Paydirect, Verve/Master ATM Card.
March 2023 ATSWA Examination Fees
–
Amount (N)
LEVELs
4 PAPERS
3 PAPERS
2 PAPERS
1 PAPER
PART I
26,700
23,200
19,700
16,200
PART II
29,100
25,200
21,300
17,400
PART III
32,700
28,100
23,500
18,900
Apply for:
NUTM Scholars Program 2023-2024
Methods of Payment For Examination Fees
a. PayDirect:
Pay directly into ICAN e-Collection Account at any Commercial bank in Nigeria.
Obtain your payment Receipt and thereafter:

Enter your Deposit Slip Number on the Payment Receipt

Enter your Receipt Number,

Click on the SUBMIT button to generate e-Voucher containing 12 digits PIN and 6 digits Serial Number respectively, required for your online registration;

Proceed to the web address on the e-Voucher i.e. www.icanportal.org/ats/examinations to register for the examination.
b. Naira ATM Card:
Pay online using your Naira ATM Visa, Verve or Mastercard by selecting the relevant payment type following the steps enumerated below. Go to https://icanportal.org/atsLOGINBY:
Entering your Registration Number and password to view your Examination and Financial Status if you have previously set up your account,

you have not set up your account, click on "New Student Registration" to create a "Password"; and

click pay ICAN and select "WebPay and click on "New Payment"
On-line Registration:
a) Requirements:
Scan a copy (JPEG format, 20kb maximum fie size) of your passport photograph (white background) for the online registration before commencement of online examination registration.
Scan a copy of your signature (JPEG format, 20kb maximum file size).
b) Procedures:
Complete the Online Form at ICAN website: https://icanportal.org/ats and click on submit.
Print the following after clicking on submit Completed Online Examination Enrolment Form:

Examination Timetable, centres and their addresses,

Examination Offences and Disciplinary Measures; and

Examination warning to all candidates
Note that (ii) and (iv) above must be read thoroughly and understood by candidates as they will be strictly applied.
Visit the website three days after online submission of the examination enrolment form to confirm your enrolment using your PIN, SN generated and Student's registration number at https://icanportal.org/ats.
Candidates are advised to download their examination dockets from the Institute's website 3 days to the examination dates.
ATSWA Examination Timetable for March 2023 Diet
| | | | | |
| --- | --- | --- | --- | --- |
| Day/Date | Time | Part I | Part II | Part III |
| Tuesday 28/03/2023 | 9:30 am – 12:30 Pm | Basic Accounting | Financial Accounting | Principles of Auditing & Assurance |
| – | 2 Pm – 5 Pm | Business Law | Information Technology | Management |
| Wednesday 29/03/2023 | 9:30 am – 12:30 Pm | Economics | Public Sector Accounting | Cost Accounting |
| – | 2 Pm – 5 Pm | Communication skill | Quantitative Analysis | Taxation |
Recommended Posts
FirstBank Graduate Trainee Programme 2023 | See How To Apply
Nestlé Management Trainee Programme (NMTP) 2023 | Apply Now
Nestle Nigeria Technical Training Programme 2023/24
Analyst, Devops Automation Jobs At Firstbank – IT Boot Camp CTO
IMPORTANT NOTICE
a. The registration period for the examination is between Thursday, December 8, 2022 and Thursday, March 23, 2023
b. Candidates are warned, in their own interest, not to bring MOBILE/GSM PHONES Electronic Gadgets or Programmable devices into the Examination Hall. Anyone found violating this instruction will be stopped from continuing with the examination and the paper will be cancelled.
c. Candidates are also warned that all kinds of WRISTWATCHES (DIGITAL/ANALOG) are not allowed into the examination hall.
d. Candidates are discouraged from bringing valuable items into the examination centres. Hence, any loss would be at their own risk and the Institute will not be liable for the loss of personal items.
e. Candidates who have applied for EXEMPTION from any level of the examination are advised to confirm that their applications are successful before making payment for the examination
f. Candidates are not permitted to apply for EXEMPTION and EXAMINATION at the same time.
g. NO REFUND WILL BE MADE ONCE EXAMINATION FEE IS PAID
h. Deferment of March 2023 examinations application will not be entertained.
i. Candidates may not have access to the examination website after Thursday, March 23, 2023 aftemoon.
j. Application for change of examination centres will not be processed after 12 noon (West African Standard Time) on Thursday, March 23, 2023.
k. Candidates are to ensure the accuracy of the information on their forms.
l. The passport photographs must be the true semblance of the applicants and must be of white background.
I hope that you have found this article useful. If you have any other questions about the March 2023 March 2023 Accounting Technicians Scheme West African Examination, kindly make use of the comment section under this article.
Do well to share this article to others via any of the available buttons below.