Have you seen the newly released UNILAG Cut Off Mark for the 2022/2023 Academic Session? In case you have not and you would like to see it, make sure that you read this article carefully to the end.
If you know that you participated in the just concluded University of Lagos Post UTME Screening Exercise for the 2022/2023 undergraduate admission, you dot have to take any information contained in this post for granted. Here, you are going to important update about the admission processes.
It is important to note that after you have participated in the Post UTME Screening Exercise, one important factor that will determine if you are going to be considered for admission or not is the departmental cut off mark of the university.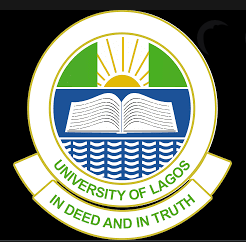 This is to officially inform the general public and every prospective undergraduate student of the University Lagos (UNILAG) that the long awaited UNILAG Admission Cut Off mark for all the departments has been released. Candidates are therefore advised to check it based on the course of study applied for.
The University of Lagos (UNILAG) does not deal with a single and general cut of for all the undergraduate courses. The cut off marks are released according to departments and state of origin of every candidate.
Continue reading for more details.
Important Posts
Four Ways to Get Admission Without Using JAMB Score

How to Secure Admission with a Low UTME Score
UNILAG Catchment States
UNILAG Catchment States are those state that University of Lagos do give preferential treatment during the admission processes. Those catchment areas include the following states:
Ekiti
Lagos
Ogun
Ondo
Osun
Oyo
Candidates from the above listed states can be considered for admission even if they do not get up to the Merit Cut Off mark, provided that their scores are up to their respective cut off marks given to them by the university of Lagos.
UNILAG General UTME Cut Off Marks
The University of Lagos (UNILAG) general JAMB/UTME cut off mark for the 2022/2023 academic session is 200. This is the minimum mark all candidate must get in JAMB/UTME before he/she could qualify for application of UNILAG Post UTME
However, the newly released University of Lagos Admission cut off mark are as show below.
UNILAG Cut Off Mark For Faculty of Arts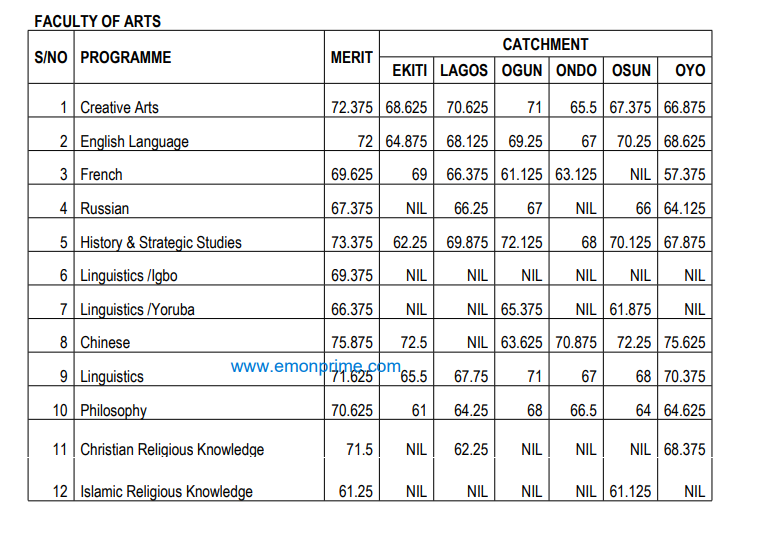 UNILAG Cut Off Mark For Medicine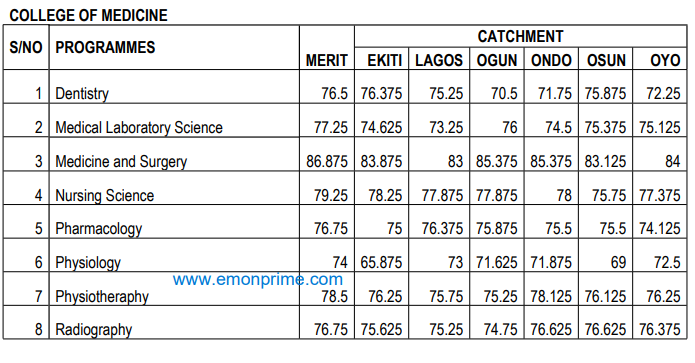 UNILAG Cut Off Mark For Faculty of Education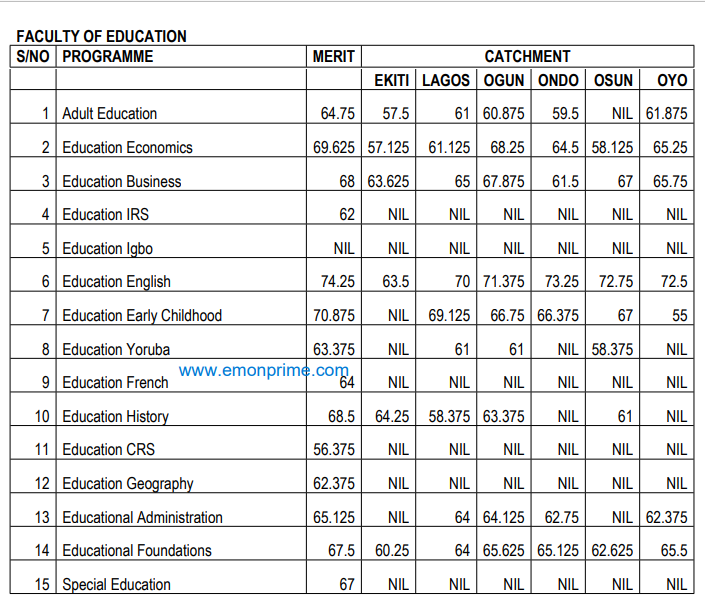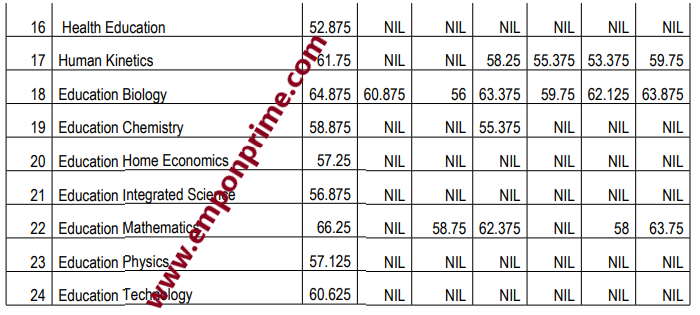 UNILAG Cut Off Mark For Engineering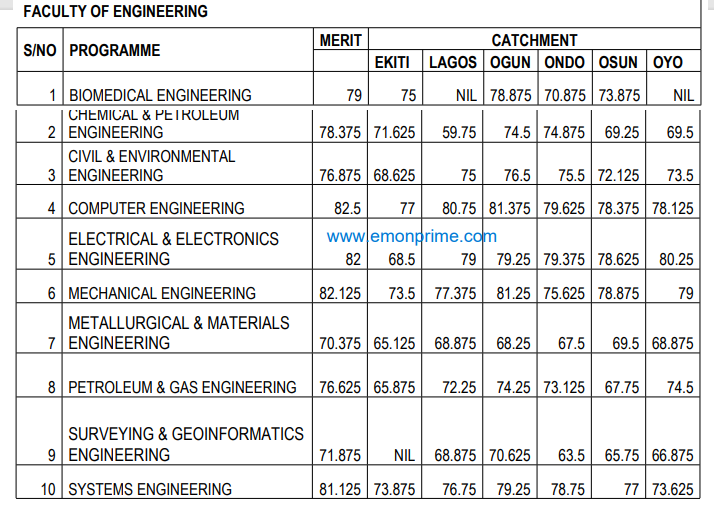 UNILAG Cut Off Mark For Environmental Sciences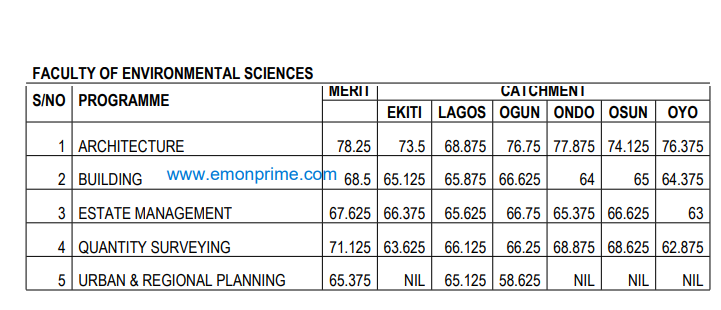 UNILAG Cut Off Mark For Law

UNILAG Cut Off Mark For Management Sciences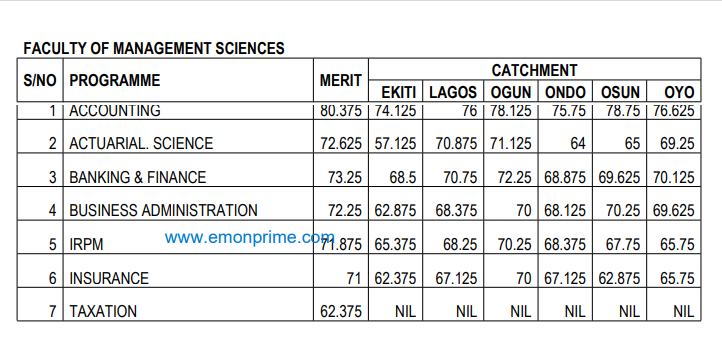 UNILAG Cut Off Mark For Pharmacy

UNILAG Cut Off Mark For Faculty of Science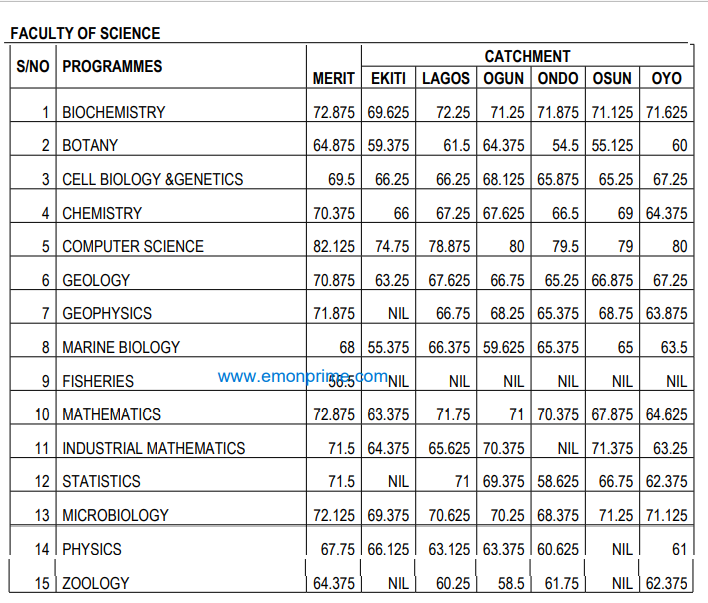 UNILAG Cut Off Mark For Social Sciences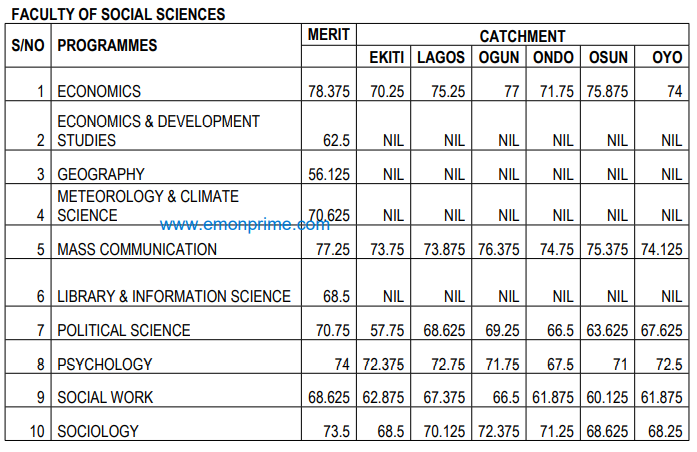 See Also: List Of Courses Offered In UNILAG
Complete UNILAG Cut Off Marks In PDF Format
Follow the link below to download the compiled University of Lagos (UNILAG) for all the departments in a PDF format:
UNILAG GENERAL ADMISSION REQUIREMENTS FOR 2022/2023 ACADEMIC SESSION
Apart from the released departmental cut off mark, the University Lagos also has the general admission requirement that applicants must fulfill before they could make it to the UNILAG admission List. Those admission requirement include the following:
Admission into FULL-TIME undergraduate programmes is ONLY through Unified Tertiary Matriculation Examination (UTME) and Direct Entry (DE).
Candidate must possess five (5) credits in O'Level or its equivalent as required by the Department of interest.
Candidates must obtain a minimum of 200 points in Unified Tertiary Matriculation Examination (UTME) and Candidate's details must have been forwarded to University of Lagos by Joint Admissions and Matriculation Board (JAMB).
Candidate must sit for the University POST-UTME Examination and must obtain the required minimum score.
The University Admissions Office processes FULL-TIME admission into undergraduate programmes ONLY. Admission into other programmes like Foundation, Diploma, Distance Learning Institute (DLI), Post-graduate and evening programmes are handled by other organs of the University.
Candidate must have reached the AGE of SIXTEEN (16) by the 31st day of OCTOBER in the year of admission.
UNILAG Specific Admission Requirements[PDF]
You can download the updated University of Lagos (UNILAG) specific departmental admission requirements for the 2022/2023 academic session by following the download link below:
Recommended:
List Of Nigerian Universities, Courses And Admission Requirements
I hope that you have found this article helpful. If you have any otrher questions about UNILAG Cut Off Mark 2022/2023 Academic Session, kindly make use of the comment section.
Please do well to share this article to others.