How to Check WAEC Result 2023
This is to officially notify the general public and candidates who participated in the examination that the WAEC result for the 2023/2024 examination is finally out. The result can be accessed on the West Africa Examination Council official website by those who have access to internet connection.
On the other hand, those who do not have access to internet connection but can at least lay hold of any kind of mobile phones can get access to their WAEC in the form of SMS.
In this article, I am going to provide you with more details on how you make use of the different platforms respectively to check your WAEC result.
If you know that you wrote the 2023/2024 WAEC examination or you had written in the previous years and you have not checked your result, you have been searching for how to Check WAEC Result; bot online and offline, just know that this article have been specially prepared to help you out.
Are you interested in knowing more about this article? All you have to do is to read this article carefully to the end.
How To Check WAEC Result Online
WAEC result can be checked via the online platform, that is through the official WAEC website, and the offline platform. For you to successfully check your WAEC Result online, they are some certain things that you need to know on how to check it and you need to be carefully guided.
The following guides that I am going to give you will assist you in checking the WAEC results.
Visit the WAEC Result checking website at: https://www.waecdirect.org/
Input your Examination Number ( that is your 7 digits Centre Number + 3 digits Candidate number e.g: 3141563765)
Select your examination year (eg 2023)
Select the examination type (PRIVATE CANDIDATE RESULTS)
Input the e-PIN Voucher Number
Enter the Serial Number of the Voucher
Finally, click on Submit to see your result.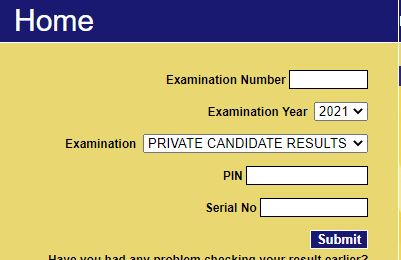 How To Check You WAEC Result Through SMS
In case you do not have access to an internet connection and still want to check your WAEC GCE Result, use the following procedure.
Open your SMS platform for any phone
Send: WAEC*ExamNo*PIN*ExamYear to 32327 (for MTN, Airtel or Glo users)
E.g: WAEC*3141563765*987654321456*2021
There should be no space while typing this SMS
Your result scores will be sent to you through SMS on your phone
Note: The cost for the SMS procedure is just N30 only
See also: How to Pass WAEC At One Sitting
Important Links
JAMB Chemistry Questions and Answers for day 1, 2, 3 & 4 – 2023
JAMB Cut Off Mark for All Institutions 2023
NECO Biology Practical Specimen Questions And Answers 2023/2024 | Complete Specimen And Solutions
NECO English Questions And Answers 2023 | Essay And Objectives
NECO Mathematics Questions And Answers For 2023 | Theories And Objectives
How Access WAEC Digital Certificate
Now that you have checked your WAEC result, if you would like to have access to your WAEC certificate digitally, make sure you take this section of the article very serious. Before I proceed to showing how it done, let first of all explain to you what WAEC Digital Certificate is all about.
What is WAEC Digital Certificate?
A WAEC digital certificate is a form certificate that can be accessed electronically. It is the same with the 'Hard Copy' issued certificate but it is sharable, transferable, downloadable on any mobile devices.
The major importance of the WAEC digital certificate is that, with it, you do not have to be carrying your files around as this will contribute to the risk of loss and damage of your certificate. You can get your whenever it is needed, anywhere and at every point in time.
The adoption of the WAEC Digital Certificate is the surest way of keeping the certificate safe against any form destructions or attacks such as Termite bites, fire incidence, Flooding, misplacement and so on.
Procedure for Getting WAEC Digital Certificate
To have access to your WAEC certificate digitally, you have to follow the instruction given below:
Step 1: Visit the WAEC Digital Certificate website at: www.waec.org
Step 2: Create your Account
On the website, click on the 'Create Account' button
Choose option for the account creation:

As a candidate
As an institution/organisation

At the chosen option, enter the personal information required
confirm the information provided
Agree to the Privacy Policy and then Proceed
Enter the Verification Code that will be sent to your email address
"Submit" for account verification
Step 3: Access a Certificate
To access your WAEC digital certificate, follow these guidelines:
Login to the account you created with your email address and password
Enter your personal information
Verify the information you entered
Agree to the 'Terms of Use'
Click on "Access Certificate" button
You will be Charged 30 units for a successful access to certificate
Click 'Yes'
Choose you preferred payment option

wallet (ensure that your wallet on the WAEC digital certificate platform has been funded)
card (use a valid bank card)

You can now access your certificate after a successful payment.
Step 4: Share Certificate
You can share your WAEC digital certificate to your email or to an institution as follow:
On the website, click on the 'Share' tab
Select the certificate that you want share
Enter the receiver's email address
Click on 'Share Certificate'
You will be charged 14 units for successfully sharing your certificate to a recipient
Click 'Yes' to continue
Choose a payment method
To share your certificate with institution/organisation, follow the following procedure:
Click on the 'request a confirmation' button
Select the certificate you want to share
Fill in the institution details
Click on the share button
You will be charged 14 units for successfully sharing your certificate to an institution
Click yes to continue
Select payment option
Your certificate will be shared immediately your payment is successful
Step 5: Confirm Certificate
No more waiting a long time to confirm certificates! The WAEC Digital Certificate provides institutions and organizations a simple and instant method to confirm candidates' certificates. Start confirming certificates by following the simple steps given below:
Visit the website
Log in to the already created account
Enter the required details
Verify the information provided
Agree to the 'Terms of Use'
Click on "Confirm Certificate" button
Click on 'YES' to affirm your consent to confirmation of certificate
You will be charged 30 units for the confirmation
Click 'Yes' to proceed.
Input the verification code sent to you
Click on 'Submit'
on the payment option, choose you preferred method of payment
Proceed to view your certificate
You can also confirm multiple certificate as shown below:
Click on the "Bulk Confirmation" button
Click on the "Click Here" link under under the "Confirm WAEC Certificate in Bulk"
Proceed to download the bulk file
Enter Candidates' information and delete the first rows to remove headings
N/B: The bulk file should only contain candidates' Examination years and Numbers
Save and upload file
Click on Proceed
Agree to the "Terms of Use"
Go to confirm bulk certificate
You will be charged 42 units for your confirmation request
Click 'Yes' to proceed
Affirm the consent to confirm candidates' certificate
You can not view the certificates in bulk
How Recover Candidate Examination Number
Candidates who cannot remember their examination number in the process of accessing are required to provide the candidate name they registered with when they took the WAEC examination. The following guide will enable the platform to recover the examination number if you follow it carefully:
On the "Access Certificate" page, Click on "Recover Candidate Number" button
Note the instructions and answer appropriately
Agree
Enter the required details
verify the information you have entered
Agree to the 'Terms of Use'
Click on "Retrieve Exam Number" button
You will be charged 12 units for successful recovery of candidates number
Click 'Yes' to proceed
Choose payment and make your payment
Enter your personal information and click 'Next'
Enter the verification code that will be sent to you
Submit
Select means of identification
Enter the Identification number
N/B: Ensure that your first and last name correspond with those on your means of identification
Finally, click the "Access certificate" button to see your examination number
How To Fund Wallet For WAEC Digital Certificate
To successfully access, share, and confirm certificates through your wallet, there should be units available in the wallet. The wallet can be funded using credit/debit cards. The guideline provided below will take you through the steps for funding your wallet on The WAEC Digital Certificate platform:
On the Certificate Access tab, Click on "Wallet"
Select "Fund Wallet"
Enter the number of units you want to purchase, depending on the service you wish to explore
Click on the "Pay" button and you will be directed to make your payment
I believe that you have found this article helpful. In case of any other questions about WAEC result, kindly make use of the comment section below.
You should also note that this article shall always be updated once there is any new change by the management of the West Africa Examination Council.
Do well to share this article with others.