Are you an undergraduate student in Nigeria? If yes, make sure you take every information that you are going to see in this article very serious. This article is for all Young Nigerian undergraduate students, especially those with financially needs to continue their academics.
There is an important opportunity that you cannot afford to miss, that is the KPMG Undergraduate Scholarship 2023. The online application is ongoing. If you have been looking for undergraduate scholarship to support your education, here is an opportunity for you. All you have to do is to visit the application portal if you meet the scholarship eligibility criteria and submit your application.
As you read this article, you are going to see everything you need to know about the scholarship program; the application requirements, how to apply for the scholarship, the benefits involved and more. kindly read to the end for a detailed information.
About KPMG Company
KPMG provides audit, tax and advisory services. They work closely with clients, helping them to mitigate risks and grasp opportunities.
KPMG Professional Services and KPMG Advisory Services are the KPMG member firm in Nigeria. The partners and people have been operating in Nigeria since 1978, providing multidisciplinary professional services to both local and international organisations within the Nigerian business community.
The vision of KPMG is to build and sustain our reputation as the best firm to work with by ensuring our people, clients and communities achieve their full potential. At KPMG, there is commitment to work with clients to cut through complexities of the business world – finding solutions and adding value.
Their combination of international and local market knowledge and perspective give them an edge in the professional services industry in Nigeria. This combination enables the Nigerian practice to add real value by developing strategies that give the firm's clients a distinct edge over their competitors.
As one of the leading providers of professional services, KPMG knows that the success and growth of the firm also depends on the success and growth of the Nigerian economy. Hence, it champions progressive change and makes the future happen for its clients, people and the community, thereby enabling Nigeria's success. The firm is involved in the formulation of economic policies for Nigeria through the Nigerian Economic Summit Group.
The firm has a full complement of 38 partners and over 1000 trained and dedicated professional staff; with deep industry skills and competencies in audit, tax and advisory services. KPMG has worked for clients in the public and private sector in Nigeria and in several other countries, helping to transform business performance and operations.
KPMG Undergraduate Scholarship
KPMG Undergraduate Scholarship Program is an opportunity that has been created the by the firm, KPMG, for young Nigerian undergraduates for the purpose of supporting their academics financially. Looking at the rate at which number of youths in Nigeria drop out of school due to their inability to fund their education and the hardships faced by those who are still in higher institutions, KPMG instituted this scholarship opportunity as one of their major contribution in the educational sector.
The KUSP Scholarships are full scholarships covering fees, school hostel accommodation and academic material (books) expenses only.
The purpose of this article is to notify all interested applicants of the scholarship about the 2023 edition. The portal for the application of the 2023 KPMG Undergraduate Scholarship program is now open and application are currently being accepted. Applicants should note that A KPMG Undergraduate Scholarship is confirmed once a successful candidate has been offered. Read this article to see more about the application.
Overview of the Scholarship
Scholarship Sponsor(s): KPMG, Nigeria
Host Institution(s): Tertiary Institution across Nigeria
Scholarship Worth: Full Funding
Number of Awards: Several
Beneficiaries: Undergraduates
Nationality: Nigerian Students
Apply For: AGIF Full Scholarship 2023
Eligibility Criteria: Who Can Apply?
Specific Requirements for Prospective Applicants
To be considered eligible for this invaluable educational opportunity, interested candidates must fulfil the following prerequisites:
Educational Background: Candidates must have completed their secondary education in a state-run public school.
Academic Performance: A minimum of five distinctions from WASSCE/NECO examinations—including Mathematics and English—in a single sitting is required.
Have completed their secondary education at a state-owned Government school within the last 2 years.
O' Level Requirements: A minimum of 5 Distinctions (As & Bs) from their WASSCE (including English and Mathematics).
Already have an admission letter or a provisional letter of admission to a federal university in Nigeria.
UTME Score: The applicant must attain a minimum score of 230 in the Unified Tertiary Matriculation Examination (UTME).
University Level: Only students in either their 100 or 200 Level at the time of application will be considered.
Nationality: Applicant must be a Nigerian citizen.
Academic Excellence: A first-class or strong second-class upper in any discipline is imperative.
Cumulative GPA: A minimum CGPA of 4.0 on a scale of 5.0 is a requisite.
Leadership Skills: Demonstrated leadership abilities and resultant societal impact are considered.
Character: Candidates must be of impeccable moral character.
How to Apply for KPMG Undergraduate Scholarship 2023
The application for the 2023 KPMG Undergraduate Scholarship program is done online. Students who meet the eligibility criteria and would like to apply for this scholarship should follow the steps given below:
Step 1: Visit the application portal at: kpmg.seamlesshiring.com and click the 'Apply'
Step 2: Create Account by clicking the 'Sign Up' button or login if you already have and account with KPMG: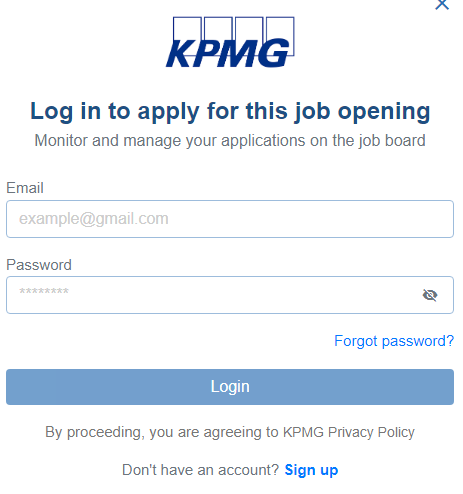 Step 3: Check your email for the verification code sent to you and input it in the provided space for confirmation.
Step 4: Fill in you Personal Information and click 'Confirm' to proceed: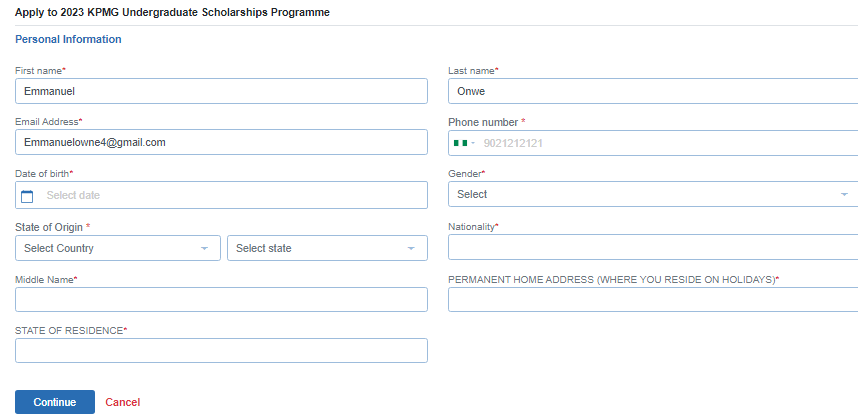 Step 5: Fill in you Educational History

Step 6: Input your University Education details

Step 7: Input your work experiences

Step 8: Upload necessary documents

Step 9: Preview your Application
Step 10: Submit your application
See Also: NNPC/SPDC JV Scholarship 2023
Document Required for Application
Document required for the application of the KPMG Undergraduate Scholarship program are:
Curriculum Vitea (CV)
Cover Note
Admission Letter
O' level Certificate
School ID Card
Additional Requirements for Shortlisted Candidates
Applicants who are short-listed for the selection stage will be required to provide the following information:
Curriculum Vitae: A detailed resume outlining academic and professional achievements.
O'Level Certificate: A valid WASSCE/NECO certificate confirming the candidate's academic distinctions.
UTME Score: Unified Tertiary Matriculation Examination score as proof of eligibility.
Academic Transcripts: Complete transcripts of academic records up to the most recent semester.
Under Documents:
CV File= Upload your CV (Maximum 10mb)
Attachment 1 = Upload your UMTE/JAMB Score Slip (Maximum 10mb)
Attachment 2= Upload your University Admission Letter (Maximum 10mb)
Only short-listed candidates will be contacted.
Application Timeline
The closing date for applications is stipulated as the 27th of September, 2023.
I hope you are going to make good use of this opportunity as you have read this post to the end. For any other questions about KPMG Undergraduate Scholarship 2023, kindly make use of the comment section below.
More Opportunities
MTN Science And Technology Scholarship Awards
Federal Government Scholarship For BEA
Microsoft Cloud & Data Scholarship
Shanghai Government Scholarship
David Oyedepo Foundation Scholarship
Share this article!