It is time to give you special update about the UNIMAID Admission List 2023/2024 Academic Session. You should worry no more if you have been searching for this information before. This is the article that will provide answers to all your questions about University of Maidugri Undergraduate Admission.
University of Maidugri (UNIMAID)
The University of Maiduguri is one of the Federal Universities in Nigeria which is located in Borno State, the Northern part of the country. It is a model university, and has developed robust developmental strategies to meet and sustain that status and remain a pride of Nigerians and humanity in the provision of higher education. It is dedicated to quality teaching, learning, and research. It offers both staff and students a serene and conducive environment for living, working, teaching, learning, and research.
For every year, the University of Maidugri offers admission to two major categories of students to study in their institution. These categories of student are the Undergraduate and the Postgraduate students. For the sake of this article, we shall be focusing on the undergraduate admission for the 2023/2024 Academic Session.
UNIMAID Admission List 2023/2024
The University of Maidugri (UNIMAID) undergraduate Admission list for 2023/2024 academic session is out online. Candidates who participated in the 2023 UNIMAID Post UTME Screening Exercise are hereby advised to visit the online platforms to confirm their respective admission status.
As usual, the University of Maidugri releases up to three batches of admission list for every academic session. Therefore, in case you have checked your admission status in the first list and you are not admitted, you should not give up, just check all the batches of the admission list for the year. You will be offered as long as you possess the UNIMAID General and Departmental Admission Requirements.
UNIMAID Admission Portal
UNIMAID Admission Portal is an online platform where the University of Maidugri Admission Lists and other admission-related news are loaded for easy accessibility by the general public and prospective undergraduate student of the institution.
The official UNIMAID admission portal is https://admission.unimaid.edu.ng/. With this link, you can access the admission list of the University of Maidugri.
How to Check UNIMAID Admission List
There are two major ways to check the University of Maidugri admission list online and only one option for checking the admission list offline. They include the following:
UNIMAID Admission Portal
JAMB CAPS, and
University of Maidugri Admission Notice Board (Offline)
To check the UNIMAID Admission list on the notice board, it requires that you must travel from wherever you reside down to the school premises to see it. This method is quite stressful and not accessible to candidate as some of them stay away distant from the school.
Before you proceed: Confirm Your JAMB Result 2023 Here | Via UTME Result Checker
How to Check UNIMAID Admission List on the School Portal
To check the University of Maidugri (UNIMAID) Admission list on the school portal, you have to follow the guideline below:
Visit the admission portal at: https://admission.unimaid.edu.ng/
Click on "Admission Status" on the landing page
Enter your Username and Password on the space shown

Note: Both your username and password are you JAMB Registration number (the same)

Click on "Sign In" to see your admission status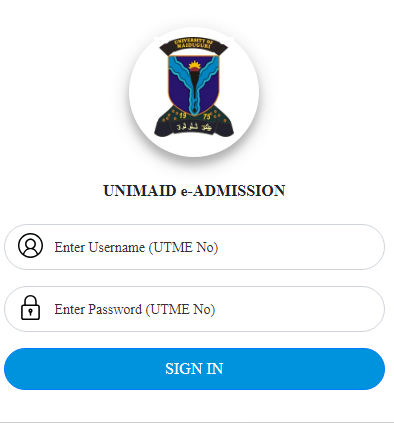 See Also: Updated UNIMAID Courses And Requirements
UNIMAID Admission List On JAMB CAPS
The guidelines for checking UNIMAID admission status on the JAMB CAPS are as follow:
Step 1: visit the official JAMB website at: www.jamb.gov.ng
Step 2: Login to the JAMB SERVICE WEBSITE (E-FACILITIES) with your email address and password (that is the one you used during the JAMB registration
Step 3: Go to "Admission Status"
Step 4: Go to "Access My CAP"
Step 5: Click on "Check Admission Status"
Step 6: If you are admitted, your CAP will show "ADMITTED" with the course that you are admitted into and the institution, University of Maidugri (UNIMAID). If you are not admitted, it will show "NOT ADMITTED"
Check:
What to Do After Checking UNIMAID Admission Status
Candidates successfully admitted into the University of Maidugri (UNIMAID) first-degree programmes are advised to:
Login to their JAMB Central Admission Processing System (CAPS) and ACCEPT or REJECT their admission.
Print their JAMB admission letter after accepting the admission.
Print their original JAMB result slip (this comes with passport photography affixed to it).
Apply for a change of course on the JAMB Portal in case they are offered courses different from the ones they initially applied for.
More Information on UNIMAID Admission
If the your JAMB CAPS is still "ADMISSION IN PROGRESS", it means that JAMB is still working on uploading of your admission status. It is definitely going to show ADMITTED once they are through with the processes involved.
In case your name is not found on the 1st, 2nd or 3rd admission list on the UNIMAID Portal, you do not have to give up. There is still hope of getting admission for you if have gotten up to the JAMB and School Cut Off Marks. You have to keep checking until all the batches of admission lists are out.
Related Articles
I hope you have found this article helpful. In case of any other question about UNIMAID Admission List 2023/2024 Academic Session, kindly make use of the comment section below this article.
Also, do well to share this article to others.