UNIZIK Post UTME Form 2022/2023 Academic Session | see how to apply now.
The UNIZIK Post UTME Application form for the 2022/2023 Academic session undergraduate admission is now on sale. Read this article to get more information about the form, requirements for the application and the application processes.
This article is specially for those who participated in the just concluded Joint Admission and Matriculation Board/Unified Tertiary and Matriculation Examination (JAMB/UTME).
If you know that you have sat for this examination, got the general JAMB Cut Off Mark and you have made Nnamdi Azikiwe University (NAU/UNIZIK) one of your choices of institution, make sure that you continue reading this article.
A lot of candidates who have been search for the time that UNIZIK will commence the sale of their Post UTME form for 2022/2023 admission would be glad to receive the latest information that I am going to share with you in this post.
Those who applied for Direct Entry admission into the institution are also expected to read this article to see the latest development.
This is to notify the general public that Nnamdi Azikiwe University, Awka has scheduled its 2022/2023 POST-UTME and DIRECT ENTRY screening exercise for candidates who chose the University as their first choice in the 2022 Unified Tertiary Matriculation Examination (UTME) and Direct Entry (D/E) as well as all Nnamdi Azikiwe University Affiliate Institutions.
Continue reading to get more detailed updates.
Eligibility for Application
The application of UNIZIK Post UTME and Direct Entry Screening Exercise is only for all suitably qualified candidates. To qualify for these screening exercises, you must meet the necessary eligibility criteria given in this section. They include the following:
Post UTME Candidates:
1. Candidates who chose Nnamdi Azikiwe University, Awka or its affiliate institutions as their first choice and have the required cut-off mark are eligible to apply.
2. Candidates who did not choose NAU as first choice university but scored the eligible cutoff marks of any faculty / programme can also apply on the condition that they visit the JAMB website for a change of institution.
3. Candidate must possess at least 5 credit passes in O' Level including English Language and Mathematics.
Direct Entry Candidates:
1. Direct Entry candidates must be holders of OND/HND/First Degree or A'Level in relevant disciplines and subjects.
2. Candidate must have applied for UNIZIK direct entry admission through JAMB portal.
Faculties Accepting Cut Off Mark Of 200
The faculties/programmes that accept the cut off mark of 200 and above are:
a. BIOSCIENCES: Applied Biochemistry, Applied Microbiology.
b. LAW, MEDICINE & SURGERY, PHARMACY,SOCIAL SCIENCES, HEALTH SCIENCE & TECHNOLOGY
c. PHYSICAL SCIENCES: Computer Science.
Faculties Accepting Cut Off Mark Of 180
The following are the faculties/programmes that accept the cut off mark of 180:
a. ARTS, BASIC MEDICAL SCIENCES, MANAGEMENT SCIENCES
b. BIO SCIENCES: Biological Science, Botany, Parasitology & Entomology, Zoology.
c. ENGINEERING: Chemical, Civil, Electrical, Electronics & Computer, Mechanical
Faculties Accepting Cut Off Mark of 160
You can apply for any of the following courses if you scored up to 160 in the 2022 JAMB examination:
a. AGRICULTURE,EDUCATION, ENVIRONMENTAL SCIENCES
b. ENGINEERING: Agric & Bio- Resources, Industrial Production, Metallurgical & Material, Polymer & Textile
c. PHYSICAL SCIENCES: Chemistry, Geological Science, Geophysics, Mathematics, Physics and Industrial Physics, Pure & Industrial Chemistry, Statistics.
d. All Affiliate Institutions.
UNIZIK Post UTME Registration Periods
Registration starts on Thursday 8th September, 2022 and ends on Thursday 10th November, 2022.
Change of course or change of institution into Nnamdi Azikiwe University, Awka (and its affiliate institutions) ends on Friday 12th November 2022. Any change done after this date will not be valid
How To Register for UNIZIK Post UTME
The portal for UNIZIK Post UTME registration is https://apply.unizik.edu.ng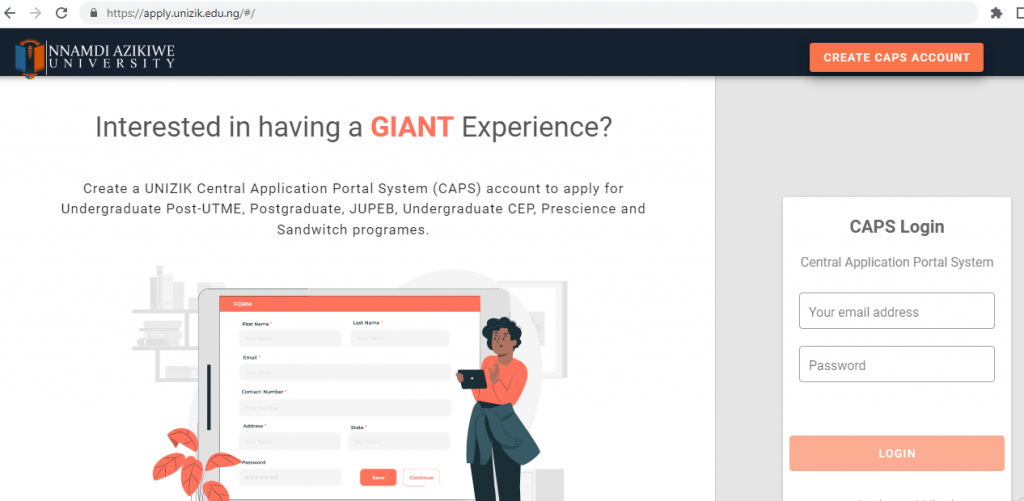 1. Visit apply.unizik.edu.ng
2. Create a UNIZIK CAP account by providing an email, phone number and password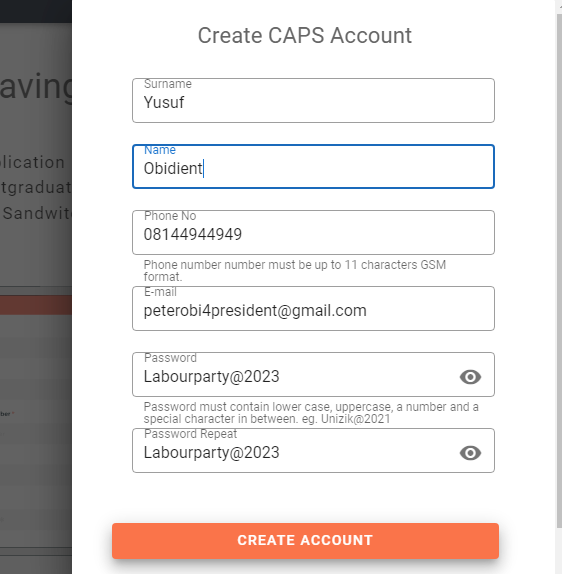 3. Validate your account by providing the code sent to your email/phone number
4. Login with your username and password
5. Click on 2021 Post UTME application
6. Link your jamb registration profile to your account.
7. Print out your Invoice and proceed to the bank to pay the sum of N2000
8. Return to the portal and provide your date of birth with next of kin information
9. Click on submit form to submit your application.
10. You will receive an email acknowledging receipt of your application.
See Also:

UNIZIK Undergraduate Courses & Admission Requirements
Registration Procedure For UNIZIK Direct Entry Candidates
Candidates must also ensure that their academic transcript is forwarded to the Registrar, Nnamdi Azikiwe University, Awka and hard copies of their JAMB E slip, O level result/s, OND/HND/First Degree or A'Level results to the office of Deputy Registrar (Admissions) on or before Monday 22nd November 2022
Any candidate whose transcript is not received before the stipulated period will not be considered for admission
Check:

List Of Nigerian Universities Courses And Admission Requirements
Requirements For UNIZIK Screening Exercise
a. Monitor your personal phone number/ email and UNIZIK website for more details of the screening exercise and post UTME/DE exercise.
b. Candidates who did not register online will not be involved in the screening exercise.
c. You must also upload your O'level results on JAMB CAPS to be considered for admissions.
UNIZIK Post UTME Screening Date
The management of Nnamdi Azikiwe University (NAU/UNIZIK) has not stated the actual date for the 2022/2023 Post UTME/De Screening Exercise. Meanwhile, you have to keep your notification button on this website activated as we are going to notify you as soon as the authentic date is published by the institution.
Note: Dates in this article may not be the standard dates from the university. Therefore, they stand to be updated once there is any change from the management of the institution.
Recommended Posts:
List Of Institution That Have Started Post UTME Application
UNN Post UTME 2022/2023 Academic Session
Important Information To All Applicants
a. The University will not be liable for any payment made with wrong JAMB registration number at the Bank.
b. The University shall also not be liable for any fraudulent payments made anywhere that is not in line with the directives of the University.
c. The University can never demand money from any candidate in order to be offered admission. As such, report any such instruction to the necessary authority.
I hope that you have found this article helpful. For more inquiries about UNIZIK Post UTME Form 2022/2023 Academic Session, kindly make use of the comment box below.
Please do well to share this article to with others.