If you have have been waiting for the release of the FUAM Admission List for 2023/2024 Academic Session, this is the article that you are going to all the information that you have been looking for. Very importantly, all those that did registration and dully participated in the 2023 Federal University of Agriculture Makurdi (FUAM) Post UTME Screening Exercise are expected to all the content of this post very serious. Before I go in detail, I would like cease this opportunity to give you few information about the University that we are talking about.
University of Agriculture Makurdi
The University of Agriculture, Makurdi (UAM) which was later renamed as Joseph Sarwuan Tarka University, is a higher education institution in Makurdi, Benue State, Nigeria. The university was established in 1988, following the recommendations of a 1987 federal government White Paper on Higher Education curriculum and development in Nigeria.
The underlying philosophy is that the average Nigerian farmer should have easy access to the fruits of scientific agriculture. This means that the university scientific community must work on practical problems of village farmers.
Also, the students to become useful and effective extension agents they must be for adequately exposed to the discipline of practical farm planning, production and marketing and a period of supervised farming internship at the village level. The basic philosophy then is the democratization and liberation of the scientific transformation of Nigerian agriculture with small scale farmers in the vanguard.
Related Posts:
FUAM Postgraduate Admission | See How To Apply
FUAM Admission List 2023/2024
Is FUAM Admission List out? Yes, the management of the University of Agriculture, Makurdi has announced that the admission list for all undergraduate programmes for 2023/2024 Academic Session has bee released online. This good news came in shortly after the release of the Post UTME Scores of participated candidates.
On this note, prospective undergraduate student of the institution are advised to visit online platforms where the admission information have been uploaded to, in order to confirm their respective admission status.
FUAM Admission Portal
It is in the FUAM Admission portal that you get most of the legit information about the Federal University of Agriculture, Makurdi. You may have seen different links that have been erroneously assumed to be the official FUAM admission portal, but in this section of the article. I will reveal the official admission portal.
The official admission portal that is recognised by the management of the University of Agriculture, Makurdi is https://entry.uam.edu.ng/checkadmission/. In this portal, you can access you admission and as well process other things related to FUAM Admission.
Let's move ahead to show you how you can check FUAM admission list.
How to Check FUAM Admission List
The two major methods of checking the FUAM admission list/status are:
FUAM Admission portal
JAMB Portal/CAPS
One last methods of checking the admission list is via the university's admission notice board. However the limitation behind this method is that it will not be accessible to you especially if you not leaving around the school environment.
How to Check FUAM Admission List on School Portal
The procedures involved in checking the Federal University of Agriculture, Makurdi admission status on involves the following: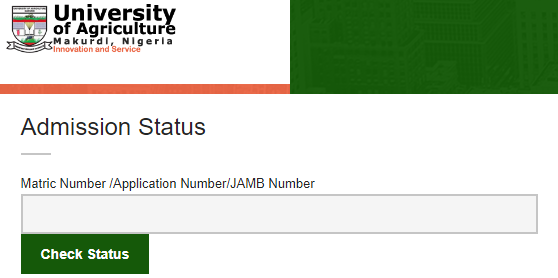 Go to the FUAM admission status checking portal at: http://entry.uam.edu.ng/checkadmission/.
Input your JAMB Registration in the required column
Click on "Check Status" to proceed to view your admission status.
How to Check FUAM Admission on JAMB Portal
To check UAM admission status on the JAMB Portal/CAPS, follow these steps below:
Step 1: visit the official JAMB website at: www.jamb.gov.ng
Step 2: Login to the JAMB SERVICE WEBSITE (E-FACILITIES) with your email address and password (that is the one you used during the JAMB registration
Step 3: Go to "Admission Status"
Step 4: Go to "Access My CAP"
Step 5: Click on "Check Admission Status"
Step 6: If you are admitted, your CAP will show "ADMITTED" with the course that you are admitted into and the institution, Federal University of Agriculture Makurdi (FUAM). If you are not admitted, it will show "NOT ADMITTED"
Check:
What to Do After Checking FUNAAB Admission Status
Candidates successfully admitted into the Federal University of Agriculture Makurdi (FUAM) first-degree programmes are advised to:
Login to their JAMB Central Admission Processing System (CAPS) and ACCEPT or REJECT their admission.
Print their JAMB admission letter after accepting the admission.
Print their original JAMB result slip (this comes with passport photography affixed to it).
Apply for a change of course on the JAMB Portal in case they are offered courses different from the ones they initially applied for.
More Information on FUAM Admission
If the your JAMB CAPS is still "ADMISSION IN PROGRESS", it means that JAMB is still working on uploading of your admission status. It is definitely going to show ADMITTED once they are through with the processes involved.
In case your name is not found on the 1st, 2nd or 3rd admission list on the FUAM Portal, you do not have to give up. There is still hope of getting admission for you if have gotten up to the JAMB and School Cut Off Marks. You have to keep checking until all the batches of admission lists are out.
Related Articles
Congratulation if you have been offered admission into University of Agriculture Makurdi. In case of more inquiries about FUAM Admission List 2023/2024 Academic Session, kindly make use of the comment section below.