Application for DAAD Postgraduate Scholarship for International Students 2023-2024 is now open. If you are an International Student and you would like further you postgraduate study in Germany, make you do not miss this golden opportunity.
Before you begin the application process, ensure that you read this article carefully to understand all that is required to become a beneficiary of the scholarship.
DAAD Scholarship In Germany
DAAD Scholarship is one those great opportunity that have been made available for International students across the globe who wish to take their academic journey to the higher level in any of the German Universities a minimum or zero cost. The Deutscher Akademischer Austauschdienst (DAAD) is a scholarship in Germany that targets students who come from developing countries.
For every, the German Academic Exchange Service (DAAD) take it upon themselves to be responsible of full funding of over 100,000 German and International Students and Researchers for all walks of life. This kind gesture has made the German Academic Exchange Service to be highly recognised to be World biggest Funding Organisation.
DAAD scholarships are aimed primarily at graduates, doctoral students and postdocs and are awarded for study and research visits to universities and non-university research institutions in Germany. In some programmes, internships are also funded.
DAAD awards Research Grants – One-Year Grants for Doctoral Candidates for PhD students from almost all countries of origin. A grant for a full doctoral programme in Germany is offered primarily to applicants from developing and threshold countries (based on the OECD-DAC list).
Scholarships for a Master's degree in Germany are available, in particular, for persons from industrial countries.
Many students from these developing countries apply and are approved for the DAAD scholarships and they get the opportunity to be enrolled in various universities in Germany. The students are awarded these DAAD scholarships for 2023-2024 to study courses that are taught in both German and English languages.
Students and doctoral candidates who are at risk of being denied educational or other rights in their country of origin have the chance to apply for a scholarship from the Hilde Domin Programme. Potential candidates cannot themselves apply for participation in the scholarship programme but are nominated by an institution or organisation that is a legal entity domiciled in Germany. Thereafter, suitable candidates will be contacted by the DAAD and invited to apply via the DAAD application portal.
Also available are so-called "Sur-place and Third Country Programmes" in which students and young scientists and researchers are offered DAAD funding for a graduate programme, doctoral programme or postdoc period in their home country or region.
Requirements for Application of DAAD Postgraduate Scholarships
A student applying for DAAD scholarship 2023 must have completed a Bachelor's degree course that had a duration of less than or equal to six years.
A student applying for this scholarship also has to show proof of two years of working experience.
The student does not necessarily have to understand German or English as this is dependent on the course that they choose.
DAAD Postgraduate Scholarship 2023 Coverage
DAAD Postgraduate Scholarship for academic year covers the following:
Postgraduate students get a monthly allowance of 750 Euros
Doctorate students get a monthly allowance of 1000 Euros
DAAD Scholarship funding is not meant to be paid back.
Both postgraduate and doctorate students get health insurance coverage
There is also a provision where these students can receive a travel grant
The students get to study for free at a German university
The students also get accommodation for free at the university
Related Posts:
How to Apply for DAAD Scholarship
Application DAAD Postgraduate Scholarships can be made both online and offline in any of the universities in Germany to be selected by prospective applicants. However, the application procedures depends largely on the selected German university. See the general steps required for application below:
Application Instruction
Get the application form for the DAAD scholarship and fill it up with the asked credentials.
Get the Europas Specimen form and make your CV which must be hand-signed.
Along with the present occupation reference, the candidate needs to get a Motivation letter which should also be hand-signed.
If the university asks for a Research proposal then provide it.
You should also provide a Recommendation letter which you received from your previous university.
Experience letter from the head under which you had been working.
A letter of guarantee for re-employment after completing the studies and returning to the respective country (Not Mandatory).
Proof for English proficiency. Tests scores that are accepted are as follows:-
*German Language: For programs carried in German it's an important requirement.
*IELTS: Check the website of each university to get the info regarding the band score requirement.
*TOEFL Institutional isn't acknowledged.
Search and apply for programs that you would like to undertake in Germany that come under the DAAD scholarship.
After you have all the required documents mentioned above, we recommend you search for other extra documents that are required for the program that you are opting for.
Universities may take the required documents either online or through postal service or both ways. Check for that on their website.
Recommended:
NMU Courses And Admission Requirements 2023-2024
List of Undergraduate Courses Offered in University of Chester
How to register yourself on the portal
Following internet browsers can be used: Internet Explorer, Mozilla Firefox, Google Chrome or Safari.
Please refer to the following link www.funding-guide.de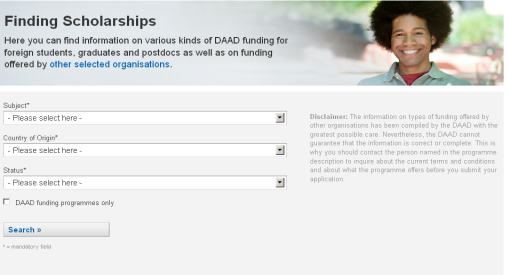 Choose your:

Subject
Country of Origin
Status

Click on "DAAD funding programs only" then on "Search", choose the right scholarship program, read the information under "Overview" and then proceed by clicking on the "Submitting an Application". You will be directed automatically to the DAAD portal.

Click on the link "Register Now"

A new page appears with the heading "Self-registration".
You must complete all fields; otherwise it will not be possible for you to register. Your user name may be up to 12 characters long and must not start with a ! or a ?.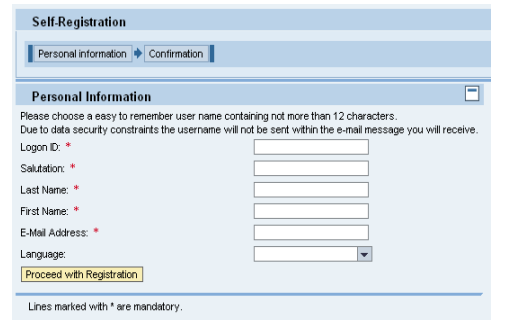 Click on the dropdown arrow next to the "Language" field and select "English" in the selection menu.
Candidates from the fields of Archaeology and Islamic studies, who could submit their application in German language, may choose German. Applicants from the
field of German studies have to submit the application in German.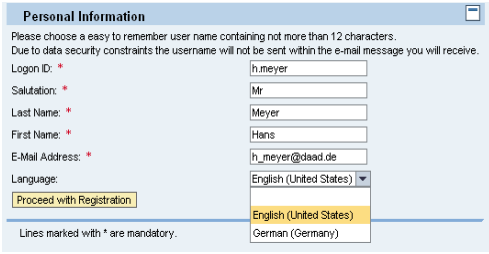 Confirm your entry by clicking on the button:

You will view a message stating that your registration has been carried out
successfully and informing you that you will shortly receive an e-mail containing
your temporary password. You only need to use this once to complete the
registration process.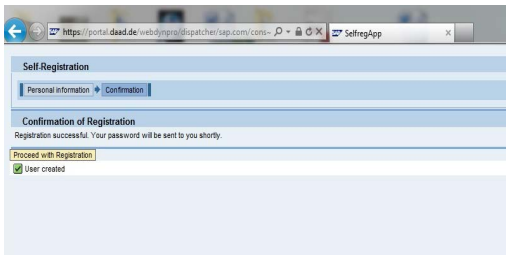 Check your e-mails and select the temporary password with your mouse by clicking just before the first character
Please make sure that you do NOT include any spaces to the left or right of the
temporary password when you are selecting and copying it, otherwise you will not be
able to complete the registration process in the Portal.
To go to the login page for the DAAD Portal, click on the corresponding link in the email: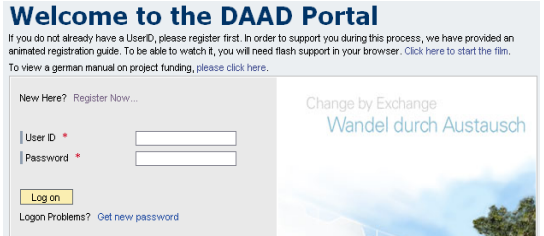 Enter your user name and your temporary password:

Now click on the "Log in" button.
You will receive a message stating that your temporary password has now expired. To set your own password, paste your temporary password in the "Current password" field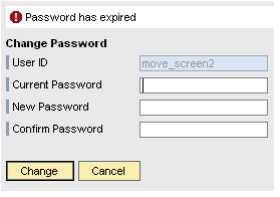 The temporary password will be pasted into the "Current password" field

Then click on the "New password" field.
Now set your own personal password. When entering your password, it is essential to take the following specifications into account:
The password must be between eight and 20 characters long. It MUST contain two special characters, such as * or +. However, the password may NOT start with a ! or a ?.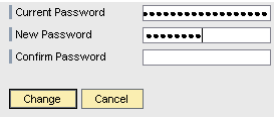 Enter your chosen password again in the "Confirm password" field. Please make sure that you enter the password in the same way in terms of spelling and upper/lower case.
Once you have entered your password, click on the "Change" button.
You have successfully logged into the Portal
The password you have chosen is now valid and must be used when you log in
again in future, so make sure you memorize it well.
If you ever forget your password, you can request a new temporary password via the DAAD Portal.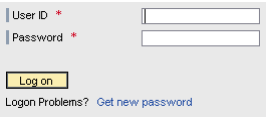 Instructions for filling out the application form
Once you have logged in, you will be taken directly to the "Personal funding" section and then click on "Application"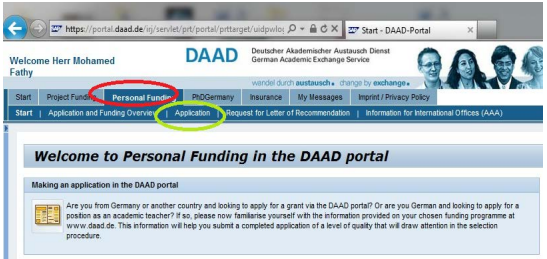 You have to choose

The funding programme: GERLS
Country of residence: (e.g: Egypt)
Target country: Germany
Applicant status: PhD candidate/M.Sc Candidate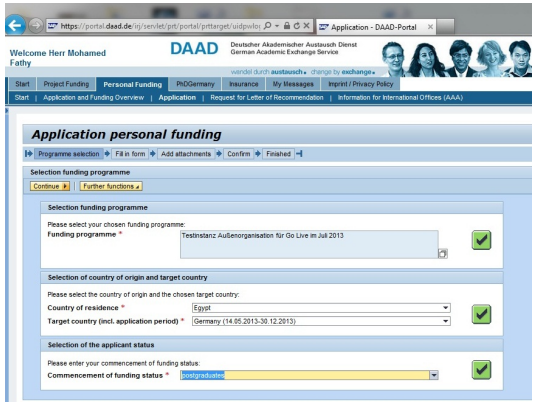 To go to the application form, click on "Continue" above the selected funding programme.

This will take you to the "Funding application" section.

This procedure is divided into four different steps:

Step 1: Download the form
Step 2: Fill in the form
Step 3: Upload the form
Step 4: Check the form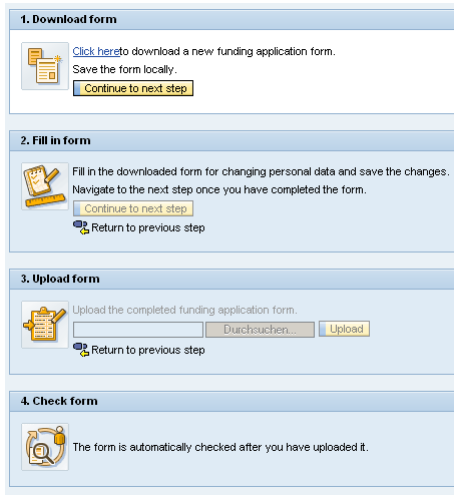 After you have downloaded the application form, you can fill it in outside the Portal. Once you have completed the form, go back into the Portal and return to the "Personal funding" tab.

You must fill-out all parts of the application that are marked with an asterisk (*).
To upload a completed form, confirm that you have filled in the form by clicking on the "Continue to the next step" button.

Finally, in step 3 (Upload the form), you can select the completed form on your data carrier using the "Browse" button and upload it by clicking on "Upload".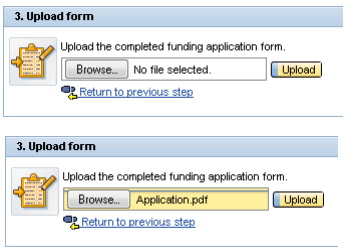 The uploaded form is now checked automatically to ensure that it is complete. If any mandatory fields have not been filled in, for example, such errors are shown in a list under Step 4.

If there are problems with your application, please make sure that you download the current form via the link "View PDF with current data". Do not use the version of the file already saved to your computer. Please make the necessary changes in the current form and use the "Save as" function to save the new, corrected document in a location of your choice. This ensures you are able to upload the most recent version to the portal.

To upload the corrected form, click on "Back to the previous step". This will take you back to step 3.
If your corrections are successful, you will view a message to confirm this.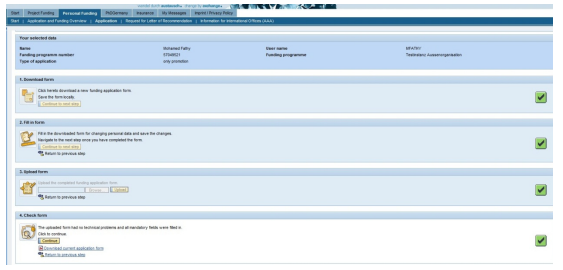 Clicking on "Continue" will take you to the "Attachments" section, the third part of the application process.

Attached documents
In the "Attachments" section, you can add the required attachments to your funding application.

Please attach all required documents as stated in the information sheet.
Please attach the required documents in the respective fields
These documents are:

CV
A complete list of publications (if applicable)
The Research Proposal. Please fill in the document "Research Proposal" available on the DAAD Cairo website and on the Portal, which contains questions to be answered concerning your proposal.
Time line of the research stay. Please upload the same time line mentioned in your research proposal.
Acceptance letter
Awarded certificates (as stated in the information sheet)
TOEFL/ IELTS certificate.
Important Posts
How To Write Thesis And Dissertation | A-Z Guide With Templates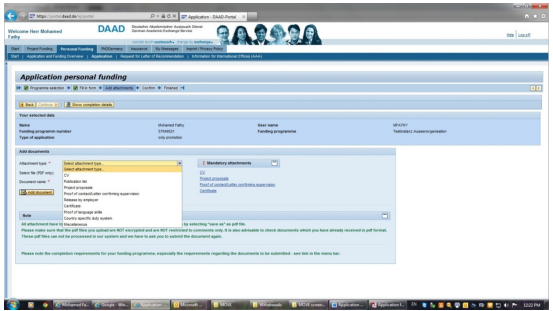 Under the item "country specific mandatory documents" please upload the following
documents as a complied pdf file in the following order:
General Required Information (template of which is available on the Portal and on the DAAD Cairo website)
An endorsement/support letter (template of which is available on the Portal and DAAD Cairo website) (mandatory for university staff members)
An official statement of employment (mandatory for university staff members)
Proof of PhD registration (if applicable)
Proof of the ethical commission's approval (if applicable)
Summary of Master's thesis on one page.
Copy of your passport.
To ensure that we can process these attachments in our digital files, please upload them in PDF format only. Any other file format will need to be converted beforehand. Please note that changing the end of the file name (e.g. from "doc" to "pdf") is not a viable way of converting files in this case.
Please also make sure that the PDF files you upload are NOT encrypted and do NOT have any commenting restrictions on them. It is also advisable to check documents which you have already received in PDF format.
These PDFs cannot be processed in our system, so we would have to ask for the document to be resubmitted.
In the upper left corner you will see a confirmation that your attachment has been added to your application.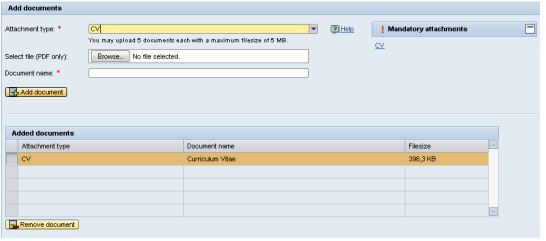 When you have uploaded your required attachments, click on "Continue" in the navigation menu in the top left.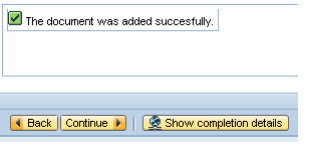 This will take you to an overview of your application.

Here you can once again access your application form and the uploaded attachments. If you wish, you can make changes to the form or upload further attachments.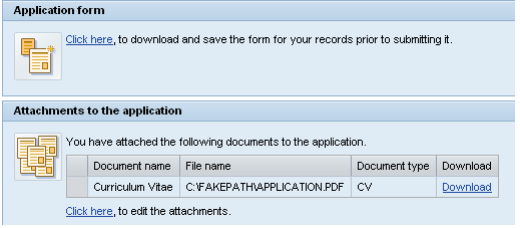 In order to submit your application, you will have to confirm that you have acknowledged the note on how to proceed further:

After you have acknowledged the note, you can send the application via the button "Send Documents".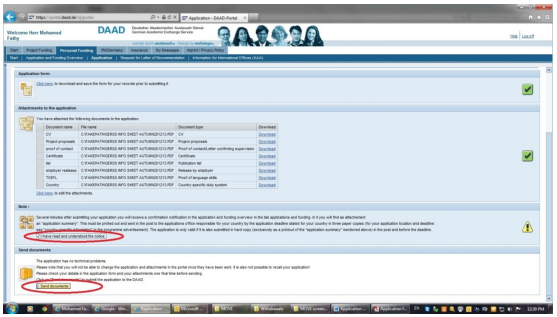 You will now view a message confirming that your application has been submitted successfully.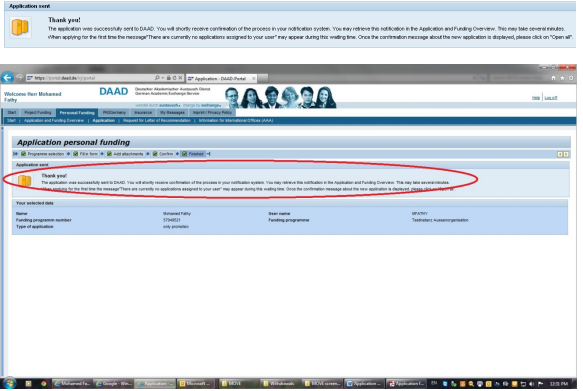 A few minutes after sending your application, you will receive an email stating that you have a message on the portal concerning your application. To view it you have to refer to the link available in the email.
To open a message, please click the black triangle in front of it.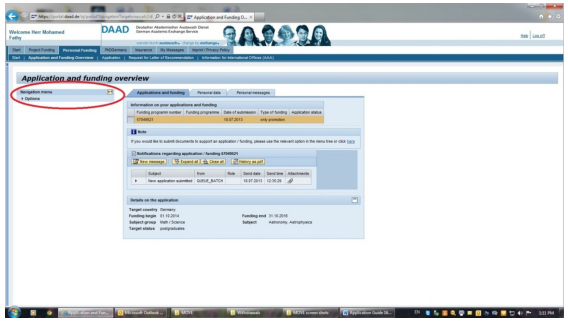 The message confirms the successful submission of the application. You will find an attachment on the right side titled "application summary". It contains your application form and all submitted attachments.
• The application summary must be printed out and sent in 3 copies via post to the
DAAD Cairo Office 11 El Saleh Ayoub St. Zamlek, Cairo before the application
deadline.
• An application is only valid when it has been submitted electronically via the
portal and not via email and sent in 3 sets as hard copies to the DAAD Cairo
office before the deadline.
• 2 recommendation letters have to be enclosed in sealed envelopes to each hard
copy and not sent via the portal. Please use the 'Recommendation letter'
template available on the Portal or the DAAD website.
Please note:
• Attachments will not be saved in the portal as cached files. It is therefore
recommended to upload your attachments just before the final submission of
your application.
• You cannot access your uploaded documents after the final submission of the
application and the files cannot be edited in the portal.
• Be careful not to have the documents open (for example in Word or Excel) while
uploading.
Templates
The following templates are available on the DAAD website and on the Portal under the
"Overview" button. You are kindly requested to download these templates, fill them out
and then upload them on the portal:
Please note:
The certified copies of the above mentioned documents will be required after a positive
decision has been taken.
Notifications, inquires and result
You will receive a notification from the portal informing you that your application has been submitted.
Please note, that this does not mean that your application is neither complete nor that you fulfill the eligibility criteria, this only confirms the submission.
Eligibility check will be done by the DAAD Cairo Office after the deadline for application.
The pre-selection as well as the final selection results can be retrieved from the DAAD Portal.
All inquiries should be handled through the portal and not via e-mail.
DAAD Scholarship Application Deadlines 2023-2024
Before you start your DAAD Scholarship application processes, carefully check the deadlines below:
Just in case if the deadline has already passed, or it seems inaccurate with the deadline listed here for a specific college, then please check the departmental websites for accurate information.
DAAD Scholarship Acceptance Rate
The Acceptance Rate of DAAD Scholarship for International Students is between 8% to 10% for the past academic years. The implication of the above figure is that assuming 100 International Students applied for the scholarship, only about 8 to 10 persons will be successfully awarded the scholarship.
Frequently Asked Questions About DAAD Scholarships
The following are some of the Frequently Asked Questions about DAAD Postgraduate Scholarship:
What are the Courses Available under DAAD Scholarships
DAAD Postgraduate Scholarships can be taken under any Course/Subject in the German Universities. However, there are some limitations when it comes to subjects like medicine and subject-specific programmes. Applicants should go through the scholarship database to choose the specific scholarships aligning with their subject category.
Can DAAD Scholarship Be Taken Online/Part-Time Courses?
No, DAAD Scholarship is only available those who are willing to embark on a Full-time Postgraduate study and attendance in universities in Germany. Applicants for distant learning, part-time or online courses are not eligible for the offer.
Is there Age Limitation for DAAD Scholarship Application?
No, there is no specific age limits for the applicant of DAAD Scholarships unless it is through the request of International Associates. However, for some of the scholarships, it is usually required that a particular duration must have been reach between applicant's graduation date from the degree to the time of the application. Kindly check Here more information.
If I reside in Germany, do I still qualify to apply for DAAD Scholarship?
Yes. If the requirement is to be in Germany for up to 15 months by the day the DAAD Scholarships applications close and the Call for Applications make no additional demands.
What is the CGPA Requirement for DAAD Application
Before the application of the DAAD Postgraduate Scholarship, there is a limit to the Cumulative Grade Point Average (CGPA) that applicants must reach. The minimum CGPA requirement for the application of DAAD Scholarship is 3.5 on a scale of 5 points or India: minimum grade 75% or GPA 7.5/10 with NET/CSIR.
Can DAAD Scholarships Be Delayed in Germany?
Yes, under some circumstances, the DAAD Scholarship can be delayed beyond the beneficiary's expected date of graduation or the graduate date could be adjusted by the institution. Some of such case could be obtainable under any of the following circumstances:
Pregnancy or childbearing
Mandatory military service
Disease or disability
Taking care of dependent relatives
Other circumstances can also be considered but then they would have to be justified and substantiated with material evidence.
Can I enroll in an e-learning German language program?
Yes. There is the provision to learn German in online courses through platforms like Goethe-Institute, Deutsche-Uni Online (DUO) among others that offer special online courses in German. If you happen to be a scholarship holder and your funding goes over half a year then the program also sponsors one of your DUO modules.
Is it hard to get DAAD Scholarship?
Yes, DAAD Scholarship is a very competitive opportunity and it is very hard to get since thousands of applications are usually received every year from International Scholars. Remember that out of these numerous number of applications, not more than 10% of them will be successful.
However, to stand a better chance of being considered for DAAD Postgraduate Scholarship 2023-2024 in Germany, you must ensure that you possess all the necessary requirements needed by the German Academic Exchange Service (DAAD) and German Universities, follow the application guidelines carefully and maintain the application period for the 2023-2024
Related Posts