UNICAL Post UTME Form 2022/2023 is now on sale. Interested candidate should follow the guideline in this article to see how to get the form.
This article is useful guide to those who are interested in the University of Calabar (UNICAL) undergraduate admission for the 2022/2023 Academic session. If you would like register for the forthcoming UNICAL Post UTME Screening Exercise, do ensure that you read this article carefully to the end.
This is to notify the general public and candidates who are seeking undergraduate admission in the University of Calabar for the 2022/2023 academic session that the Post UTME Screening form is finally out for sale.
Candidates that participated in 2022 Joint Admission and Matriculation Board (JAMB) Examination and have gotten a minimum score of 140 are therefore invited for the registration of the UNICAL Post UTME.
For more detailed information as regards the UNICAL Post UTME, continue reading this article.

UNICAL Post UTME Registration Periods
The University of Calabar (UNICAL) Post UTME registration start on the Thursday 18th August, 2022 and stops at 12.00 mid night on Sunday, October 16th, 2022. During this period, all interested candidates are expected to complete all the Post UTME online Registration processes.
Important Links
UNICAL Post UTME Past Questions and Answers [PDF]

Approved UNICAL Courses And Admission Requirements

JAMB Cut Off Mark For All Institutions | Universities, Polytechnics And Colleges
Cost Of UNICAL Post UTME Registration
The cost purchasing UNICAL Post UTME Registration PIN is N2,000.00. You should be informed that this is the official price for the form. However, Cyber Café may add extra charge as their pay for assisting applicants on the registration.
UNICAL Post UTME Registration Requirements
Applicants of the UNICAL Post UTME must possess some necessary requirements before they can be allowed to proceed with the registration. The UNICAL Post UTME registration Requirement are:
Applicant must not be less than 16 years old at the time registration.
Applicant must have participated in the 2022 JAMB examination and score up to JAMB General Cut Off mark of 140.
Applicant must make the University of Calabar a first choice institution on the JAMB portal.
Applicant must possess the O' level of minimum Five (5) Credit Pass with English language and Mathematics inclusive.
How To Register UNICAL Post UTME
The official website for the UNICAL Post UTME registration is http://www.myunical.edu.ng. Applicants should note that the registration of the UNICAL Post UTME is done online.
In this section, I will be showing you how you can get registered using different platforms.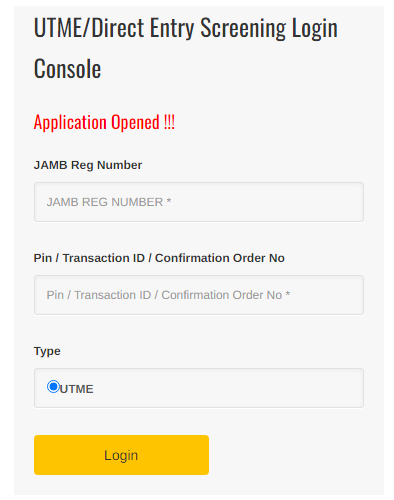 The following options are available:
How to Get UNICAL Post UTME PIN From Commercial Banks
E-transact option:
This option is available in all commercial banks nationwide.
At the bank you are required to pay and obtain an E-transact PIN.
With the PIN log into the portal http://www.myunical.edu.ng
Click on the UTME Admission Screening link
Log in with your CONFIRMATION ORDER NUMBER and follow the instructions on the portal after login to complete the registration processes.
How to Get UNICAL Post UTME PIN Online
Buy Post-UTME Pin Online option:
This option gives access to purchase Post-UTME pin from the portal.
Click Buy Post-UTME Pin Online to purchase the Post-UTME pin online.
Login with the TRANSACTION ID as the PIN into the portal.
How to Print UNICAL Post UTME Printout From Bank and Online
After you have made your payment for the UNICAL Post UTME and you have gotten your TRANSACTION ID, you can obtain your printout by following these guidelines:
LOG ON TO http://www.myunical.edu.ng
Click on the UTME Admission Screening link
On the home page, enter your correct JAMB Registration Number in the box provided
Enter the confirmation order number or TRANSACTION ID in the box provided
Click on login
Follow the online instructions.
Confirm your entries
CLICK ON SUBMIT
Print out the completed form.
UNICAL Post UTME Screening Date
The University of Calabar (UNICAL) Post UTME for the First Choice aptitude test exercise commences on Monday, October 24th and ends on Saturday, October 29th 2022. Candidates should check their Post UTME Printout to see the specific date for their examination.
Information For UNICAL Post UTME Candidate
As regards the UNICAL Post UTME Screening Exercise, registered candidates should take note of the following:
Candidates are required to come with their original UTME result slips showing candidate's photograph;
The Post UTME exercise is Computer Based Test (CBT)
Special candidate with any form of disability should please indicate during registration.
Recommended Posts:
Further Instruction to All Applicants
IT MUST BE FURTHER NOTED THAT:
a.) Impersonation is a serious offence and anyone caught will be handed over to the Law Enforcement Agents and may be liable to up to 5 years imprisonment
b.) Any candidate who fails to take part in the screening exercise automatically loses his or her chance of being considered for admission.
c.) Early commencement of registration is advised to avoid congestion in the dying hours.
d.) Candidates are advised to check the Portal from Wednesday, October 19th 2022 for their venue and time of the CBT.
e.) Candidates are strictly advised to ensure that their correct phone numbers are provided while filling the form online as the University will communicate with them directly.
Having read this article to the end, I believe that you have found it useful. For any other questions about UNICAL Post UTME Form, kindly make use of the comment section below.
If feel that information contained in this article could be helpful to someone, please do well to share it.